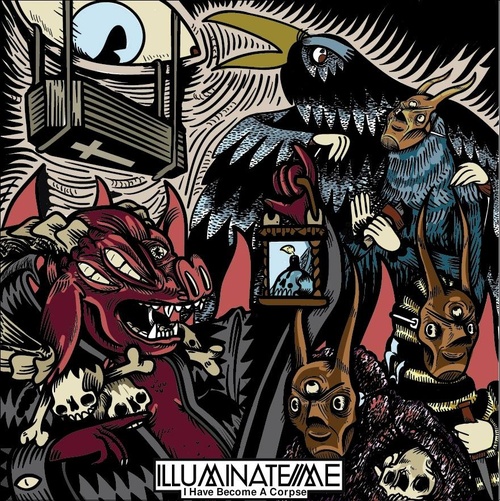 Illuminate Me is a hardcore band hailing from South Florida, USA. Having recently signed to Tragic Hero Records, they have now released their album 'I Have Become A Corpse'. What with their state of residence and zany song titles, it would be safe to expect some fairly rifftastic southern-sounding punk. However, in spite of the name of the 4th track, 'Ouija Board Taught Me Everything I Know', it appears that Ouija board has neglected to include teaching the band how to make interesting music.
The first track on this album is entitled 'Voodoo Blues' and it does set itself apart by featuring Garrett Rapp of The Color Morale, but it's ultimately a statement of intent in the worst way possible; not one song on this album really sounds much different.
'I Have Become A Corpse' offers a generic beatdown-centric style of hardcore which is average at best. Whilst it's not constantly in a transparent mosh encouraging slow, half-time feel all the time, it all seems to merge together anyway. When the band does dare to diverge from tired musical tropes, it doesn't offer something pleasingly different instead. 'Apples To Whoranges' proves why most beatdowns don't favour aimless, underwhelming noise and feedback over open string chugging that might at least be crushing as well as contrived.
Though there are certain passages on the album which prick ones ears up a bit, such as the slightly eerie panned guitars at the introduction of 'Funeral Friends', they are brief, rare and are redeeming mostly in their aggressiveness. Such a remark might appear like a compliment in this genre, but if the only remaining appeal is simply dissonance and heaviness then the album is plainly lacking. This is because other bands exemplify and execute these qualities tonnes better. If you turn the volume up you might well be fooled into finding yourself liking this more, but if the well-known psycho-acoustic phenomenon is its only saving grace, it's probably fair to say that the album in question isn't worth listening to.
1/5
'I Have Become a Corpse' by Illuminate Me is out now on Tragic Hero Records.
Illuminate Me links: Facebook|Website|Twitter
Words by Nick Povey