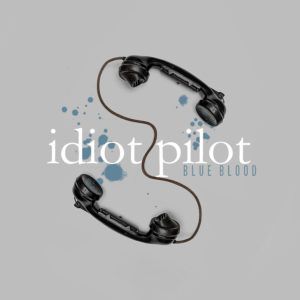 Experimental duo Idiot Pilot are back. Ending their indefinite hiatus with the announcement of 'Blue Blood', their first album in more than a decade. You can't imagine how much the musical landscape has shifted in that time. When their last album, 'Wolves', was released, Bandcamp was still a year from being founded and yet, they have settled nicely into their unique little groove.
'Bombs Away' opens things up in the noisiest way possible, blasting away the cobwebs, proving Michael Harris and Daniel Anderson still work like a well-oiled riff machine. It's followed by 'The Pushover' which couldn't be more different, treading an atmospheric line. Before long you've travelled an acoustic soundscape, been assaulted by a great rock n'roll bulldozer and been pounded by the arena-sized 'Sideways', which could be a long-lost U2 song.
At first, the record seems about as coherent as a drunk after five cans of super-strength lager, but the more you immerse yourself in it, the more obvious the disparate pieces slot together.
Fans will undoubtedly recognise Idiot Pilot's approach but everything has a modern twist, gleefully assaulting the senses. Mainly by forcing their songs over a great many soundscapes and visiting old haunts, just so they can whack you with something new. Take the chaotic, 'Asylum', one minute it sounds like a 90's Fatboy Slim track, the next it's battering you with guitar riffs. It's a lot to take in, but it's an intoxicating mix. Then you get the absolutely bonkers 'Murderous', it's like being hit by a pickup truck, then dragged along in the axels and was worth the band reuniting just for its powerful blend of wild guitar and electronics. Afterwards, you need the immersive post-rock atmospherics underscoring 'Silver Needle' just to calm down.
Unleashing all Idiot Pilot's scatter-brained genius 'Blue Blood' has a bit of everything, quite often during one song. It might seem puzzling, but patience reveals the spadefuls of brilliance found throughout its runtime.
4/5
'Blue Blood' by Idiot Pilot is released on 12th March.
Idiot Pilot links:  Facebook | Twitter | Instagram | Bandcamp
Words by Ian Kenworthy (@WhisperingSand)