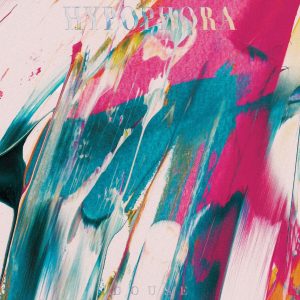 Imagine Hypophora's debut album 'Douse' as a chest full of jewels washed in from the Cornwall coast and you're not far off the mark. Key to the band's sound is Karum Cooper's guitar.  One moment playing an ode to 90's trip-hop, the next it's an attack that wouldn't be out of place on an At The Drive-In record. Transitioning seamlessly back and forth so that each song becomes a mixture of sparkling pop, funk, math-rock and post-hardcore that isn't easy to categorise and continually surprises.
Vocalist Katie McConnell is stunning, especially on 'Spires'. With a similar approach to Tiggy Dee from Eva Plays Dead, you detect a Karen O or Becca Macintyre vibe to her voice, but she outshines them all with careful restraint. Collectively, the four-piece play together fantastically meaning the vocals never dominate. When the guitar sits back, Lewis Pilcher brings out tasty bass runs ('To Hear; Listen'). When the band play a simple lurching riff, that's McConnell's cue to let-rip ('Sorcerers'). It's an attitude that keeps you guessing, but never seems forced, no matter where the song finds its strengths.
'Etoliate' has a heavy swagger and laidback refrain, contrasting totally with the gentle 'Smiling (Numb)' or the big chorus and crushing riff that rolls out on 'Headlines'; each is brilliant. Throughout, Peter Miles' lo-fi production enhances the band's dynamic. Keeping the sound crisp and genuine, no matter how much echo or delay is being used. On the shoegaze-y free jams of 'Chemical X' this (along with a repeating motif) keeps the song from becoming muddied. Just once or twice weightless guitar sections threaten the focus, but James Farmer's drums quickly reign them in.
Closer 'Ordinary' is a highlight. A careful chorus tugs the heartstrings then, suddenly, pulls the rug out from under you with the record's best guitar attack and solo. Then it's over, leaving you wishing there was more.
'Douse' is such a rich treasure trove that Hypophora deserve wide recognition.
4/5
'Douse' is released on 21st September via Easy Action/Zen Ten Records.
Hypophora links: Instagram | Twitter | Facebook
Words by Ian Kenworthy (@WhisperingSand)