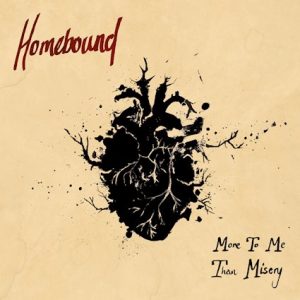 So much buzz surrounds Homebound you'd think they were teetering over a bees' nest. After a handful of EPs, including 2017's well-received 'The Mould You Build Yourself Around', there's anticipation to 'More to Me Than Misery'. Don't worry, you haven't been stung.
Homebound describe themselves as pop-punk and, yes, there is a definite pop-punk vibe to the songs, but there are flavours of something heavier and meatier. Imagine someone used a knife to slice a lemon before cutting your piece of cake. At times the sound borders on post-hardcore, similar to bands such as Movements, but wouldn't be out of place on the Drive-Thru Records roster circa 2003.
Currently a four-piece, Homebound are keen to emphasise their darker approach. 'Change of Heart' opens with eerie guitars and a thunderous backbeat. Vocalist Charlie Boughton seems reluctant to begin, confessing quietly until the tempo forces him to unleash a real hook.  His voice mixes a pleasing bite with a real knack for choruses. Throughout, he avoids the anthemic and instead cleverly threads melodies, meaning you're never far from a hook; even when things get shouty on 'Yours Truly'.

'Coming Clean' is a highlight. Blending "whoa" vocals into the background to create a superbly poppy feel, only to be countered by dirty guitars and spiky yells. Had the tone been sweeter, it wouldn't have fitted nearly so well. 'Truth Be Told' continues the abrasive style, teasing with a high-tempo opening but catches you out, swaggering into a sing-along.
'Indelible' brings a change of pace, intending to be the EP's heart. Slower, it builds towards a chorus, but when it arrives, isn't as massive as it promises to be. Boughton repeats himself, underscoring his point rather than pushing, an odd choice, given the construction elsewhere. Thankfully guitars come smashing back in, making it more of a misstep than a blunder.
Homebound have made honey with 'More to Me Than Misery', an EP strong enough to satisfy the buzz, just.
3.5/5
'More to Me Than Misery' EP by Homebound is released on 17th August on Rude Records.
Homebound links: Facebook  | Twitter | Instagram
Words by Ian Kenworthy (@WhisperingSand)