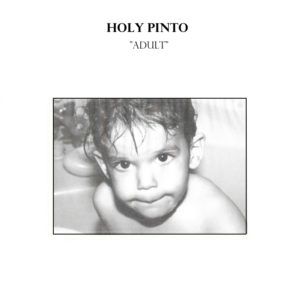 Once upon a time, there was a two-piece band called Holy Pinto. They lived in Canterbury and in 2016 released a charming little album called 'Congratulations'. Sadly, the two parted ways, but the quaint little story continues. Singer-songwriter Aymen Saleh relocated to Milwaukee, home the musicians who inspired him. 'Adult' is his first full-length release from the perspective of a solo artist, telling the story of growing up and leaving home.
Within moments of the opening musing 'Adult #1', you can hear how the adventure has shaped Saleh's song-writing, improving it, subtly. Making for a more delicate and affecting journey than anything he has written before. Just as quickly you realise why Saleh stuck with the Holy Pinto moniker, the familiar bright guitars and drum sound remain, as do the Canterbury-tinted vocals. Yet, the music feels more playful, especially when he's showing off his guitar skills with the lovely staccato strumming on 'Salt' or the percussive drift of 'Brother', sometimes even becoming raucously noisy, especially on the outro to 'King'.
Saleh's voice is where the magic lies. Meringue light, at times, you can almost hear the sadness sparkling in his eyes as he sings. However, delicate though it is, there's a glow to his performance which softly overpowers the melancholy, making everything here warm and life-affirming.
Lyrically, the record is honest, whether Saleh is singing about smoking on the jaunty 'Gold Leaf' or of lost love on the uplifting 'You Are My Seatbelt', it feels relatable and genuine.  'Daisychain' is beautifully affecting and, with its forlorn refrain of "I'm never coming home", draws upon the album's deeper themes, of growing up and moving away. A handful of lines scattered throughout the record reemphasise this point and it's all tied nicely together on closer 'Adult #2'.
Though given extra gravitas by the story behind 'Adult', there's no denying it's a heartfelt and charming record, made with a spring in its step and sad twinkle in its eye.
3.5/5
'Adult' by Holy Pinto is released on 8th March.
Holy Pinto links: Website | Facebook | Twitter | Instagram | Bandcamp
Words by Ian Kenworthy (@WhisperingSand)