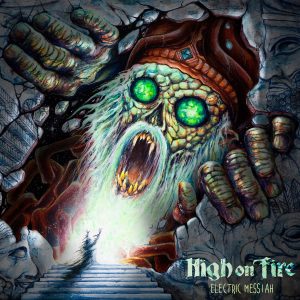 Listening to 'Electric Messiah' by High on Fire is like being run over by a freight train for 50 minutes. In fact, since joining with Kurt Ballou at GodCity Studios for 2012's 'De Vermis Mysteriis' and 2015's 'Luminiferous', Matt Pike, Jeff Matz and Des Kensel's sludgy power trio have picked up the pace in a lot of their songwriting and becoming a more intense, punk-driven band for it.
It's these rapid-fire moments that provide the highlights on 'Electric Messiah'. The band waste no time showing it off on opener 'Spewn From the Earth,' which revolves around four minutes of breakneck speed metal riffs, with any potential room to breathe effectively smothered by a power-drilling guitar.
Tracks like 'Spewn…' , the title track and the intense 'Freebooter' and 'The Witch and The Christ' see High On Fire at their most feral and untamed. While Ballou's organic production style emphasises the mud splattering grit of their performance, as Pike vocalises through gnashed teeth while ushering shredding solos effortlessly. These moments feel spontaneous and leave you on edge.
Unfortunately, we can't say the same about the longer tracks on 'Electric Messiah'. Pike considers 'Steps From the Ziggurat House of Enlil' and 'Sanctioned Annihilation' to be "Rock Operas", but with little variation across the stretch of nine and ten minutes, patience is tested. Although these tracks are intended to be grinding and hypnotic in their approach, when the production is more suited for the frantic side of HoF, one is left yearning for those faster tracks.
But the fact that High on Fire are still experimenting and showing this much ambition 20 years and eight albums into their career is admirable. Though some songs on 'Electric Messiah' stand out more than others, you never sense that the trio aren't pushing themselves. It's inconsistent but still has enough firepower to keep the freight train moving.
3.5/5
'Electric Messiah' by High On Fire is released on October 5th on Entertainment one Music.
High On Fire links: Website| Facebook| Twitter 
Words by Andy Davidson (@AndyrfDavidson)