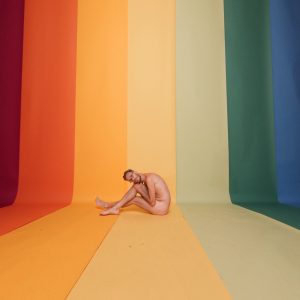 The artwork accompanying Hellogoodbye's new record 'S'Only Natural' is the perfect metaphor for its contents: frontman and songwriter Forrest Kline baring all on a multi-coloured canvas. The pomp that defines the band's work is here, but this isn't business as usual. Unexpected? Oh, yes. Gone is the big band sound of 2013's 'Everything is Debatable'. Instead, it's the sexual groove of a funk odyssey.
As 'S'Only Natural' illustrates, with its stomping sound, they've nailed the funk aesthetic. Big basslines and drum beats pulse through the record's first half. 'Cheap Love' impresses with a sultry vocal, accentuated by a bippy-boppy keyboard. 'Let It Burn' teases with strings and a pause in just the right place; designed for a 1970's dancefloor, you can't help but shake your hips. Even when 'Close' slows things down, it keeps the spirit with throbbing beats, a big organ and Kline's low husky voice.
Midway, everything goes a bit awry. Ballad 'Anytime Anyform' signals a sharp transition into more experimental territory. Such uncomfortable keyboards and beats might work for Radiohead, but not with these pop stylings. On 'Put In Out' 1980's synth-pop rears its head. Tonally at odds, with straight drums and synthesizers, it feels strangely muted. Having just shaken off the record's identity, 'Hang Loose' returns us to the 1970's disco but its weak falsetto vocal is dull and uninspired. 'I'll Keep Following You' is funky but forgettable.
Finally, we get a tacked-on grandiose duo. 'Stare into the Black' is a three-year-old experiment in lounge jazz, which belongs on an elevator soundtrack, not here. Finally, brass and strings give 'Honeymoon Forever' a floaty 1950's feel. You could imagine movie teen heartthrob Vince Fontane crooning it in Grease. It's cheesy as hell, even embarrassing, yet explains the peculiar orchestral opener 'Honeymoon Overture'.
You've got to admire Hellogoodbye's balls for trying something new, but once 'S'Only Natural' steps off the disco dancefloor, it very quickly stumbles.
2.5/5
S'Only Natural' by Hellogoodbye is released on 5th October on Alcopop! Records /  Wasted Summer.
Hellogoodbye links: Facebook | Twitter | Website
Words by Ian Kenworthy (@WhisperingSand)