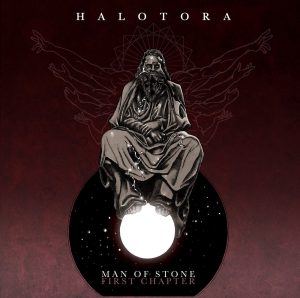 Dancing on the lines between prog and post-rock, Scottish quintet Halo Tora have returned to expand on the brooding sound of their debut album. Having surfaced on the European festival circuit (including a milestone Arctangent performance) and numerous tours, 'Man Of Stone: First Chapter' is an important step forward in the band's career with their ever-growing audience. It could prove to be their make-or-break project.
'Always the Last To Know' is a solid start – but it's the band sounding their safest. It's a tried-and-tested alt-rock song (an excellent example of one at that) that has everything you might expect. Chunky guitar riffs, dramatic singing and almost theatrical drumming all come together to make a tightly packed reminder that they know the mould before they decide to try and break it.
While 'Fractured' is a sonic step away. It's a melancholy, emotional ballad which shows off some impressive lyricism and vocal talents. Aided by the barebones guitar and supportive strings, it's carried with a real sense of significance. 'Unthank' also runs on that trend of emotive, gentle alt-rock but switches it back halfway through, bursting into an epic, noise-filled finale that feels much more familiar to the band. Glimmering keys bounce off gritty guitar riffs and soaring vocals keep pushing the sound forward.

'Man Of Stone' is easily the boldest and most vital track on this album. Cleverly calling in fellow Scottish hip-hop artist Solareye for a spoken-word performance, it combines the heartfelt tone of the quieter tracks with the meticulous, mood-driven instrumentation. Its powerful, hard-hitting lyrics feel genuine to all the artists involved.
Without falling into a sophomore slump, Halo Tora have expanded on their identity. They have shown their prowess when it comes to traditional alt-rock, as well as when taking more abstract risks.
4/5
'Man of Stone: First Chapter' by Halo Tora is released on 6th April.
Halo Tora links: Website|Facebook|Twitter|Instagram|BigCartel
Words by Sam Seaton (@BIMMBrighton)