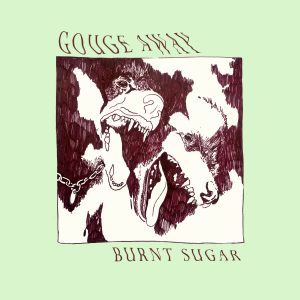 Depending on your knowledge of baking, the term 'Burnt Sugar' will either conjure images of a black, disastrous mess, or a dessert syrup. Four-piece Gouge Away take the much cooler route and come out sounding like the most delicious blackened mess in punk rock right now. Embracing dissonant noise, incumbent riffs and abrasion, they pull every punch and go harder than we've ever seen them.
Opener 'Only Friend' is an ear-roasting lament on depression that sounds as aggressive as the lyrics are distressing. Vocalist Christina Michelle is a powerhouse on this album and this is one of her best moments. "Paranoia comes knocking, she's my only friend" is delivered with powerful, seething frustration. The repeated phrase is slowly surrounded with a cacophony of distortion, seeing the band come to together for an intense final burst of sound.
Most of the songs here are under the two-minute mark but make up for that with pure power. So when they make things a little longer – like with three-minute long single 'Ghost' – things take a grunge-y turn. Swapping out fast-paced guitar patterns for sludgy riffs, it's a gloomy but passionate track that revels in its own darkness.
There's ample choice for straight up punk scorchers though. 'Slow Drown' features some soft grooves alongside shrieked vocals, while 'Can't Relate' is a minute of encapsulated anxiety and distress. It's a tight track-list that doesn't waste any time, a pure run of aggressive, self-conscious tunes.
For a sophomore album, this is an impressive effort. They've doubled down on fury, pain and talent, and still sound deeply entrenched in their punk roots. It's deeply personal yet deeply relatable, the kind of honest and open rock music that feels appropriate for the world we live in. When we are surrounded by mental health struggles at every turn, 'Burnt Sugar' is a screaming, open reminder that nobody's alone in their problems and that through music, open rage is a valid therapy.
4.5/5
'Burnt Sugar' by Gouge Away is released on 28th September on Deathwish Inc.
Gouge Away links: Website | Facebook | Twitter | Bandcamp | Instagram
Words by Sam Seaton (@citrus_music_)