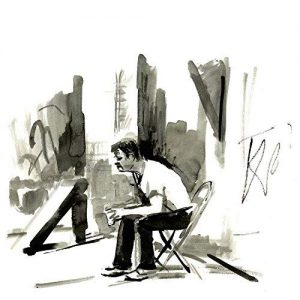 'Bent Shoulders' is a troubled record. Filled with confessional tales of family trauma, violence and existential despair, this record sounds like the product of an individual unleashing years of suppressed fears and anxieties into a single body of work for the first time.
It's perhaps natural that one would be surprised that God Alone is not a group of newcomers, but a side-project featuring The Devil Wears Prada frontman Mike Hranica and guitarist Kyle Sipress. It has nothing to do with TDWP's brand of anthemic metalcore, instead presenting a grayscale slab of sludgy post-punk delivered with real conviction.
Perhaps the biggest difference between this record and Hranica and Spiress' usual output is the emotional sensibilities or lack thereof of 'Bent Shoulders'. Hranica's vocal delivery is largely spoken and atonal. Think Steve Albini with a dash of Joy Division and Interpol influences and you've got an idea of his sound. On tracks like, 'Tiny Bantam' it's cold and distant, on 'Milk Drinkers', Hranica sounds agonised.
The most emotional driving force of 'Bent Shoulders' is ultimately the music itself. While God Alone are less technical than anything you've heard from TDWP, the force of their sludge pop melodies channels the dense walls of distorted bleakness these songs are meant to convey.
In interviews, Hranica has compared God Alone to The Jesus Lizard, Young Widows and 'Climax' by Beastmilk. While 'Bent Shoulders' doesn't reach the same pedestal of his influences, this is a remarkable effort for a side project that has absolutely nothing in common with his metalcore day job. This is a wild surprise from musicians who rarely get to show off their songwriting range and as such, is a commendable effort. Just don't expect it to start any pits at Slam Dunk.
3.5/5
'Bent Shoulders' by God Alone is out now on Rise Records.
God Alone links: Facebook | Twitter | Bandcamp
Words by Andy Davidson (@AndyrfDavidson)