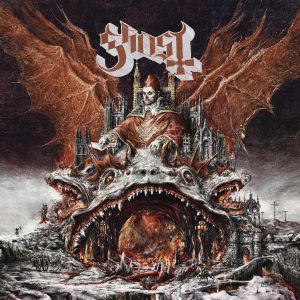 It seems to be a recurring theme with Ghost that the lore and image behind them is more interesting than the music. Of course, given Tobias Forge's commitment to moving the narrative ahead with new personas to front the project, that's to be expected to an extent, but it'd be nice if that could translate into the work more. Other than the occasional single or individual track, Ghost have been a sadly unsubstantial prospect.
Until now, that is, as on 'Prequelle', Ghost take a sense of gothic mystique and their love of classic rock, '70s prog and '80s pop to the peak of its potential for what is easily the best album they've ever made. And that's simply because everything comes together borderline masterfully, taking a concept surrounding the Black Death and funnelling it into wonderful, unashamed flamboyance. What's more, the fact that Ghost themselves clearly know how ludicrous this all just makes it so much better, like the explosive classic rock of 'Rats', or 'Dance Macabre' which could genuinely be a Duran Duran song.
Sure, Ghost have never shied away from embracing their poppiest impulses, but it all feels so much more refined here, blatantly veering away from the metal they're frequently associated with to accentuate how well they can do this even further. It's not watered-down at all either; this is inventive, ballsy stuff to seemingly highlight just how divisive the band actually are, opting for synth and saxophone solos over guitars on 'See The Light' and 'Miasma' respectively to flaunt that theatricality even further.
Honestly, there's very little else to say, but that's only because 'Prequelle''s parts connect to such fantastic effect, that it ultimately just speaks for itself. Their layered, considered composition is borderline flawless throughout, making the abundance of hooks and melodies all the more fantastic. This is essential listening, particularly from a band who've never really produced much of note, and who've evolved to a point where they can make one of the best albums of the year.
4.5/5
'Prequelle' by Ghost is released on 1st June on Spinefarm Records / Loma Vista Recordings
Ghost links: Website | Facebook | Twitter
Words by Luke Nuttall (@nuttall_luke)