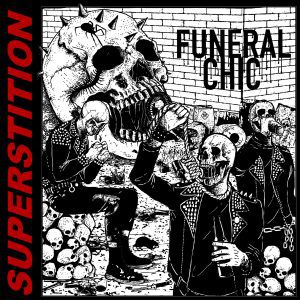 Since bands like Entombed and At The Gates discovered the sonic brutality of the Boss HM-2 guitar pedal, their signature guitar tone has inspired a slew of extreme metal and punk bands over the years. One of those up and coming bands in the underground music scene is North Carolina's Funeral Chic, and their latest release is 'Superstition'. Their brand of blackened crust punk is an amalgamation of blood-curdling vocals, pummeling drums and violent riffs. This dangerous band will drag listeners through the mud with their explosive sound.
Funeral Chic kick things off with 'Rotten To The Core', a song that is as brutal as the track name. After the short sample at the beginning, the guttural growls open the floodgates and this nightmarish showcase begins. 'Reaper Superstition' is a masterclass in effective blast beats and crushing guitar riffs which is a violent assault of the senses that leaves you wanting more.
'Jump' is a masterclass of fast-paced riffs and enticing drum patterns. The galloping tune is a nod to the classic death metal and grindcore bands that helped carve out the most unruly sounds of the late 1980s. The velocity of this album is a constant pleasure for fans that are familiar with the smouldering metal music that their parents would love to hate.
The tempo shifts and slow burner 'Red Laces', the longest track on the album, clocks in at just over four minutes. The buzzsaw guitars really stand out in the mix and you get an idea of how evil this band is. This is a song that has your head banging uncontrollably and pulling a snarling face in heavy pleasure.
All in all Funeral Chic have unleashed an album that shows that they are out for the blood of the current music landscape. The artwork alone on 'Superstition' is enough for you to be enticed by the five-piece and their chaotic offering. Once you've heard this album, you'll be left wanting more.
4/5
'Superstition' by Funeral Chic is released on 16th November on Prosthetic Records.
Funeral Chic links: Facebook | Bandcamp | Twitter
Words by Dylan Whitty (@rootsinwax)