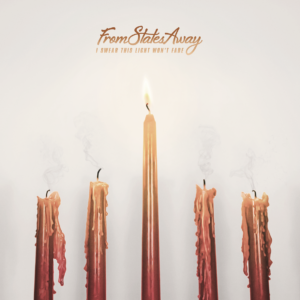 When it comes to American pop-punk it can be pretty tricky to stand out from the swelling pack. Nevertheless, New York's From States Away make a good go of it with their latest release – 'I Swear This Light Won't Fade'.
On the surface, it's an easily digestible four-track offering that soon comes and goes. Although they stick to the typical genre tropes; big hook-filled choruses with sincere lyricism, there are hints of potential splattered about the EP.
'Night & Day' drifts in before erupting into a sea of finely tuned "woah-ohs" handing the quintet an early anthemic highlight. Filled with lyrical bitterness, addressing a former love's pretentiousness, it's a strong opening that harks back to the emo/pop-punk sound of the mid-2000s.
Even though From States Away stick to a tried and tested formula, the mid-point pairing of 'Hair' and the horror film-referencing 'Elm Street', are executed with plenty of gusto. The former is a personal rally call of acceptance and to be strong with an uplifting, bouncy chorus. The latter leans towards adrenaline-filled rock, combing an edgy approach with thriving percussion.
Like the opener, 'Stalling Out' is reminiscent of those who more than likely served as the soundtrack to From States Away's youth. It wraps itself is ascending instrumentation with Chris Lauletti and bassist Brendon Beene sharing vocal duties ala Taking Back Sunday.
On this evidence, From States Away might not be the next breakout group yet they have enough about them to not be ignored. There are hints of an expanding sound on here; slicker production and sentimental lyrics. Ultimately, if FSA are to stand out, they should (and probably will) organically grow. 'I Swear This Light Won't Fade' could be a stepping stone towards greater things.
3/5
'I Swear This Light Won't Fade' EP by From States Away is released on 7th December.
From States Away links: Facebook | Twitter | Instagram
Words by Sêan Reid (@SeanReid86)