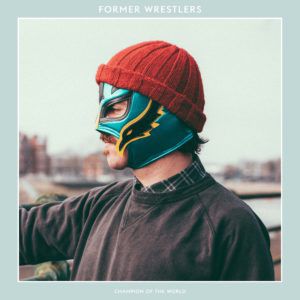 Derya Nagle is a man of many talents. Guitarist, producer and now solo artist.  Former Wrestlers is the name of his new project and it's literally one man's vision. He handles everything; writing, performing and producing, resulting in 'Champion Of The World', the sound of him branching out and having huge fun into the bargain.
You might recognise Nagle's name as lead guitarist from tech-metal bands Good Tiger and The Safety Fire, but that isn't the genre he is playing around with here. Instead favouring a stripped-back rock-focused sound, bookended by two more experimental offerings. 'Canim Benium' is a strangely quiet but affecting opener, musing softly upon lost love. Only then does he unleash the full-band sound of 'Weekend Hobbies'. It's fast, it's fluid and has a real Good Tiger feel, only without the guitar flurries.
Similarly, 'Purple Morning' has a real groove with the vocals and guitars  slotting harmoniously together. It's enough for you to wonder just how much input Nagel has on his other bands' song-writing, especially as he is a surprisingly good singer, taking to the higher registers in a format similar to that of Elliot Coleman. Lyrically too, he shares the slightly obscure approach, which is clearly heard as he compares his family to wild animals on 'Mother & Father Dearest'.
Nagel's high-quality production is well regarded, having worked with artists like Protest the Hero and Frank Turner, with such pedigree it's no surprise the five-song set sounds excellent. Firm, flighty and focused, it also bites when it needs to. This is particularly true on the alienesque pitch-bent 'Everyone Knows', which sees him exploring different sonic space, but those production credentials keep it tight and flowing.
While it doesn't reach the heights of Nagel's other projects, 'Champion Of The World' is much more than an experiment. There's enough quality songcraft here to warrant its release and although it's something he claims to dabble with at the weekend, hopefully Former Wrestlers isn't just a one-time project.
3.5/5
'Champion Of The World' EP by Former Wrestlers is released on 15th March.
Former Wrestlers links: Website | Twitter | Instagram | Bandcamp
Words by Ian Kenworthy (@WhisperingSand)