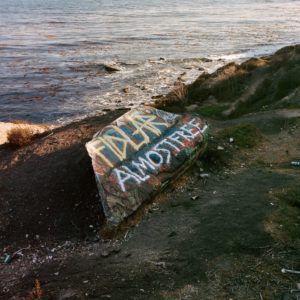 California punks FIDLAR's musical journey has been relatively straightforward up to now. Their first two albums garnered a considerable amount of traction with their laidback and relatable style, as well as with a little help from some creative music videos. Their third album, 'Almost Free', doesn't walk such a straight path.
The track here is slightly less beaten and zig-zags all over the alternative-rock spectrum. The opening sound clip serves as a warning for what's to come; an air raid siren to signal that everything's about to get turned on its head. It leads into 'Get off My Rock', a song that wouldn't be out of place on 'Licensed to Ill' with its pounding drum beat and half-shouted, half-rapped lyrics. The gain-heavy second song, 'Can't You See', shakes everything up again, opting for a sound reminiscent of Hendrix.
FIDLAR are restless in their desire to produce something different on every track. Most exciting is 'Too Real', a song with elements of Kanye all over it, both musically and lyrically, as the band take aim at a variety of aspects of culture in 2019. Whether it's the typical argument that we're addicted to our phones, to the false activism and virtue signalling that's rampant in today's society, FIDLAR seem unafraid to point fingers and raise some hell.
Much of the album is rooted in this relatability. As is common with FIDLAR, reading between the lines is crucial. Lines such as "I confess, I'm only happy when I'm depressed" leap out, the juxtaposition of FIDLAR's jovial music and their intensely personal lyrics is almost overwhelming at times, but also reassuring. 'By Myself' is the best example of this, with its party-anthem verses providing the backing track for some of singer Zac Carper's most confessional lyrics to date.
'Almost Free' is an essential and giant leap in FIDLAR's career. Like nothing you've ever heard, but somehow comfortably familiar, 'Almost Free' is a piece of art to be admired.
4.5/5
'Almost Free' by FIDLAR is released on 25th January on Mom + Pop Records.
FIDLAR links: Website | Facebook | Twitter | Instagram
Words by Ben Mills (@BenMills28)