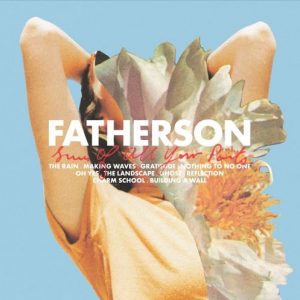 Here's a band who have decided exactly what kind of music they'd like to play, without worrying about what'll make them reach the mainstream. In comparison to Fatherson's previous two albums – both treasure-filled, easily listenable numbers – 'Sum Of All Your Parts' is a plunge into the unknown, taking chances on songs which aren't as immediately recognisable but hold their charm in their willingness to try something new.
Less concerned with the anthemic choruses we've come to expect from the band, the songs focus more on their message. 'The Landscape' isn't immediately memorable but the repetition of "do I give up?" enforces the intensity of the subject. The sullen, solemn 'Oh Yes' serves as a warning to wasting your time on relationships that don't work and, as lead singer Ross Leighton sings "I don't want to lose you but you're making it hard, so hard" the emotion is as powerful as his. The poetry spoken over the top is just one example of their more experimental direction, and fully embraces a focus on the meaning.
Powering the strong messages, the music sounds heavier than we've heard from Fatherson before. 'The Rain's simple piano allows the lyrics to take centre stage, before ascending into rockier instrumentation. 'Making Waves', while with a recognisable, layered style of vocals, and 'Charm School' are similar, with the latter reminiscent of Twin Atlantic's divisive 'GLA' album. Perhaps most unfamiliar is the inclusion of another vocalist on 'Nothing To No One', contrasting moments of soft quietness with louder intensity.
Fatherson have stepped out of our comfort zone but firmly into their own, proving they have the talent and drive to take risks and try something different. Listeners may not fall in love with the band's third album as quickly as its predecessors, but it'll nestle its way into fans' memories in time for the tour later this year. They've taken a risk and it's paid off, with a result that's intriguing and diverse.
3.5/5
'Sum of All Your Parts' by Fatherson is released on 14th September on Easy Life Records.
Fatherson links: Facebook | Twitter | Instagram
Words by Kathryn Black (@kathrynblack07)