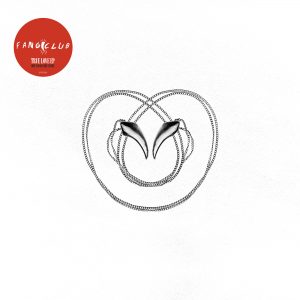 Irish three-piece Fangclub have been making waves in the underground alternative scene over the last few years. Now, after gaining plenty of praise for their emphatic self-titled debut album last year, the trio return with their new EP 'True Love' – a release worthy of even more acclaim than its predecessor.
The band are pretty well renowned for their punchy, gritty grunge that harks back to 90's icons Nirvana, while also sprinkled with an influence of Foo Fighters and Queens Of The Stone Age. Whilst the sound and style may lack a touch of originality, 'True Love' showcases Fangclub's ability to exercise it in all its glory.
As can be expected from an EP with a name like 'True Love', the lyricism hones in on a reflection of both love and infatuation. Yet the mood is positive and far from melancholic. Opener 'Knife' hits like a bullet to the head with its emphatic driving bass riff smothered in heavy gain fuzziness, next up 'Heart Is A Lightmine' isn't lacking intensity either.
'Smother' has a lighter, indie-punk feel, while both 'Sweater Weather' and 'High', carry an infectious, chugging groove along with belting, powerful choruses. The latter is also a touch reminiscent of Royal Blood's bolting hybrid bass/lead sound.
Fangclub seem set to consistently better themselves with each release. 'True Love' feels just the right length, and is able to keep the pumping intensity that their debut may have slightly lacked. It might not reinvent the grunge genre, but 'True Love' certainly delivers in showing off what's great about it.
4/5
'True Love' EP by Fangclub is out now on Vertigo Records.
Fangclub links: Website | Facebook | Twitter | Instagram
Words by Dylan Tuck (@DylanJTuck)