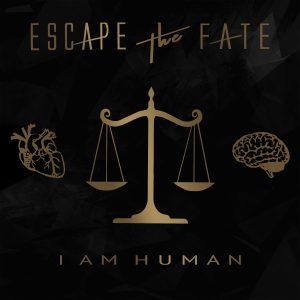 Who is Craig Mabbit again? Is he the one who was in Blessthefall, the one who founded The Word Alive or the one who replaced Ronnie Radke as lead vocalist for Escape The Fate?
The answer may be all of the above, but his work in the latter alongside Kevin 'Thrasher' Gruft, Thomas 'TJ' Bell and Robert Ortiz has been far steadier. Five albums in, Escape The Fate are in danger of sinking into a metal mire populated by similar groups all doing similar things.
A glance at the track listing of 'I Am Human' suggests a continued lack of progression, with 'Let Me Be' from 2015's 'Hate Me' puzzlingly included once again — the very same version. Why is not clear, as its presence would not be missed on either release.
Fortunately, this oddity is preceded by some solid work, most notably the rousing double of 'Beautifully Tragic' and 'Broken Heart', each proving that wearily unoriginal lyricism can be vindicated in unapologetically big, direct songs.
'Empire' is straight out of the Motionless In White playbook, a chugging, electrified juggernaut of keyboards and hedonism: "Welcome to my empire / where everybody's fucked up".
And a wise reluctance to stray from the three-minute mark is never more justified than on 'Resistance', a battle-cry that packs an unexpected hoot of a chorus between one of the heaviest riffs on offer.
Versatility is on show in the shape of 'Bleed For Me''s balladry and the acoustic 'If Only', each a surprising success head-and-shoulders above the by-numbers hard rock of the thankfully brief 'Riot'.
On 'I Am Human', Escape The Fate hint at expansion, but crucially also prove that they may not need to expand at all. While far from special or career-defining, this album sees the band do what they do rather well, and not without a bit of flair.
3/5
'I Am Human' by Escape The Fate is out now on Better Noise Records (Eleven Seven).
Escape The Fate links: Website|Facebook|Twitter|Instagram|Bandcamp
Words by Peter Stewart (@PeteStew_)