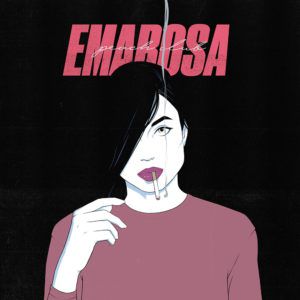 Tell me if you've heard this one before: an alt-rock band with a flair for writing strong melodies, surprise fans by heading in a pop-infused direction. Emarosa are the latest "culprits" to take such a route. Returning with their first full-length in three years, 'Peach Club' most certainly marks a new beginning for the Kentucky quartet. It could be easy to put them down for abandoning their roots and taking a different course, but 'Peach Club' doesn't deserve such harsh treatment. It's too damn fun to hate.
From the outset, 'Givin' Up' and 'Don't Cry' set out Emarosa's intentions by producing a big, glossy pop-rock banger drenched in an 80's R&B groove. Throughout 'Peach Club', synth-pop blasts with a strong nostalgic spine that proves to be beneficial for all involved. For example, 'Cautious' sparkles with crystal keys and Bradley Walden's fittingly smooth vocals. While 'So Bad' confidently rides a bright, new wave, and
Still songs such as 'Hell Of It' show they still have a rock-driven edge with its domineering drums beating the under riding synths. Likewise, 'Help You Out' subtly bridges the gap between the band's past two, Walden-led, albums, leaning towards the harmonious rock side of things.
Partly due to Courtney Ballard's bold production, there is a radiant energy that, for the most part, runs through 'Peach Club' with the occasional drop to offer a moment of reflection. 'xo' reins things in, allowing Walden's sincere voice to take centre stage through its balladic delivery. Although the bubbly and spacious 'IW2DWY' ("I want to die with you") is conceivably a step too far.
Whether you call it a quickfire "cash grab" for bigger things or a fresh start, 'Peach Club' doesn't deserve to be this fun but it just is. Emarosa's digestible foray into pop territory has allowed them to lose the restraints that shackled them, enabling them to flourish.
3.5/5
'Peach Club' by Emarosa is released on 8th February on Hopeless Records.
Emarosa links: Website | Facebook | Twitter | Instagram
Words by Sêan Reid (@SeanReid86)