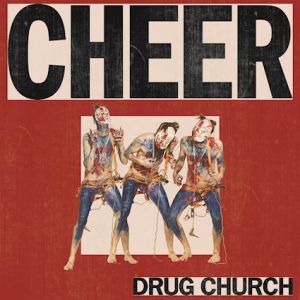 You know, Patrick Kindlon probably never imagined he'd be fronting two equally successful bands, touring internationally with the likes of Every Time I Die, Turnstile and The Story So Far or even still playing music at all back when he was recording Kurt Vonnegut quotes for End of a Year's 'Sincerely' back in 2006.
Nowadays Kindlon gravitates between fronting Self Defence Family and Drug Church with a number of critically acclaimed releases under each belt, both bands separate sources of different songwriting ideas and moods. So while SDF's 'Have You Considered Punk Music' embraced listeners into a hazy embrace of absorbing shoegaze-inspired post-punk, Drug Church are here to provide something more buoyant on the aptly-titled 'Cheer'.
[youtube https://www.youtube.com/watch?v=F7r3VDrNOlE]
Continuing the existential and self-critical pondering of 'Paul Walker' and 'Hit Your Head', 'Cheer' sees Kindlon taking on a variety of topics difficult to address in day-to-day conversation. 'Avoidarama' discusses staying at home to avoid running into old friends, while 'Unlicensed Hall Monitor' protests toxic people trying to corrupt others even though they themselves "can't handle their shit".
Despite negative topics, 'Cheer' is upbeat, spontaneous and written as a celebration of surviving these shitty situations with your head held high. Touring with Turnstile has inspired the straightforward bounce in 'Foam Pit', while the hazy production of 'Strong References' and 'Dollar Story' has the same life-affirming charm recalling Jawbreaker.
But this isn't a nostalgic record by any means. Drug Church are a band who thrive on momentary bursts of energy and craft those moments throughout 'Cheer'. And after twelve years of fronting different bands, Patrick Kindlon can attach his name to a record that defines modern punk rock.
4.5/5
'Cheer' by Drug Church is out now on Pure Noise Records.
Drug Church links Website | Facebook | Twitter
Words by Andy Davidson (@AndyrfDavidson)