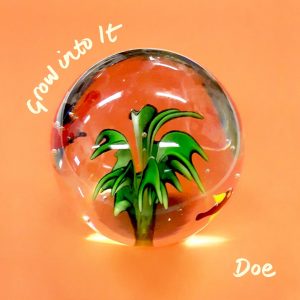 Doe 's 2016 debut 'Some Things Last Longer Than You' contained razor-sharp vocal hooks, brash guitars and thoughtful lyrics channelling the relatable, existential dread of expectations of our early twenties. 'Grow Into It' is a welcomed continuation of their winning formula.
Talking about artists maturing can be a bit of a clichéd compliment, but with Doe's recent joint signing to Topshelf Records and Big Scary Monsters, the sentiment fits rather snugly. The abrasive, cut-throat riffs, blended with sugary sweet choruses on 'Even Fiction' and 'One At A Time' beautifully complement each other. The abundance of satisfying guitar amp feedback throughout the album ensures each track effortlessly flows into one another.
'Motivate Me' on the other hand is the breeziest, radio-friendly venture of their discography yet, retaining their unique charm and whimsy with the guitar harmonics as the primary hook. The simplistic repeated vocal lines that made Doe's previous material so instantly catchy are still here, albeit toned down in favour of stronger songwriting.
The mantra "you never worry 'cause you never have to, give me what I give" on 'Labour Like I Do' hits the nail on the head when relating to a one-sided relationship, where one partner puts in all the effort and the other fails to reciprocate.
There's a strong sense of careful venting behind Doe's lyric choices, but they thankfully don't come across as whiny or melodramatic in the slightest. The line "I'm not sorry anymore" on 'Heated' is sung in such a potent manner alongside lush vocal harmonies, it is a liberating triumph over introspective relationship struggles. 'Here In The Dirt' finishes the album on an explosive high note, a sonic whirlwind of fury that makes you feel broken by the time the last few acoustic guitar strums ring out.
'Grow Into It' is a wonderfully cathartic sophomore record, cementing that the future is looking bright for Doe. 
4/5
'Grow Into It' by Doe is released on 28th September on Topshelf Records and Big Scary Monsters.
Doe links: Website | Facebook | Twitter | Bandcamp
Words by Ashwin Bhandari (@GIVEUPOX17)