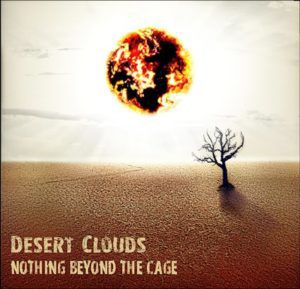 Since their arrival to London in 2010, Italian rockers Desert Clouds have been aiming to breach the UK music scene with their "atmospheric grunge" rock. Their latest offering, 'Nothing Beyond The Cage' follows up their 2017 EP 'Time Distortions' and they aim to showcase their sound at its creative peak. Suffice to say, they seem to be far from it.

Opening track 'The Outcast Trail' starts off with very quiet guitars and hushed vocals. It's dreary, to say the least. The first chorus comes in and somehow it doesn't pack as much of a punch as it should. This is probably down to the lacklustre mixing and mastering. 'Speed Of Light' again starts with a monotonous lull, but does seem to pick up only slightly. The chorus does have a nice ring to it, but it's not anything to shout about. Two songs in and this album is slipping through the cracks. 'Take Off' sounds like a rip-off of 'Judith' by A Perfect Circle in the verses and doesn't really go anywhere in the choruses.
The solo on 'Under Tons' is a highlight, although it's spoiled by poor mixing, it still has a sharp bite to it. 'Overmore' sounds more like the complete package, reminiscent of 'The Bends'-era Radiohead with a solid Blues Rock solo that hits hard. The good times don't last very long, as the penultimate track is very bleak and doesn't really go anywhere.
Album closer 'Whistling In The Rain' is by far the best track on this album, almost as if the band saved it until the end. It's a track that flows in and out of serene verses and a punchy chorus and ends with an exceptional razor-sharp solo.
It's plain to hear that this album is a shoddy attempt at a 90s grunge rock revival.  It's safe to say that 'Nothing Beyond The Cage' is nothing more than a faint blip on the musical radar.
2/5
'Nothing Beyond The Cage' by Desert Clouds is released on 18th January.
Desert Clouds links: Website | Facebook | Twitter | Instagram
Words by Dylan Whitty (@rootsinwax)