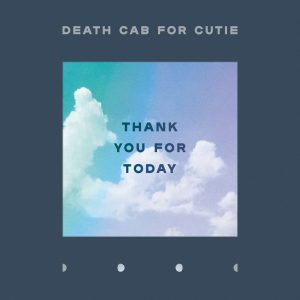 With guitarist and songwriter Chris Walla departing the band following 2015's 'Kintsugi', Death Cab For Cutie's ninth album is considerably a fresh start for Ben Gibbard, Nick Hamer and Jason McGerr. While the addition of full-timers Dave Depper and Zac Rae emphasises this notion.
On the surface, 'Thank You For Today' has a pleasant sense of familiarity with its comfortable instrumentation and earnest songwriting. However, the departure of Walla is a big task to follow, yet its allowed Death Cab to take an unrestrained approach, giving their sound freshness albeit with mixed results. For example, the combination of pristine production and twinkling keyboards on opener 'I Dreamt We Spoke Again' means Gibbard's fragile vocals get lost. In contrast, 'Summer Years' and 'Northern Lights' are carried with constant Death Cab traits; plucky guitars, occasional distortion and poignant lyricism are complimented by momentarily synth swells.
The midpoint pairing of 'Your Hurricane' and 'When We Drive' highlights the reflective imagery Gibbard uses throughout the record. The latter is a rose-tinted, nostalgic trip of easier, carefree times. Whereas leadoff single, 'Gold Rush' sees him pleading for his home of Seattle to "please don't change". Musically, it plays to Death Cab's strengths; breezy guitars and soft harmonies. Later on, 'You Moved Away' swells with emotion as Gibbard effectively captures the feeling of a close friend moving away.

As a whole, 'Thank You…' borders on "playing it safe" with few stylistic risks taken ('Gold Rush' is an exception). At times, it moulds into one, only for the sombre piano of '60 & Punk' to get your attention. With waltzing lines such as "the curtain falls to applause, and the band plays you off" and "daydreaming of the upcoming tour", Gibbard's tale of refusing to grow up is one of the album's compelling highlights.
Although this is a new start, Death Cab haven't quite shed their old skin. Nevertheless, 'Thank You For Today' shows promise of them returning to their previous best.
3.5/5
'Thank You For Today' by Death Cab For Cutie is released 17th August on Atlantic Records.
Death Cab For Cutie links: Website | Facebook | Twitter | Instagram
Words by Sêan Reid (@SeanReid86)