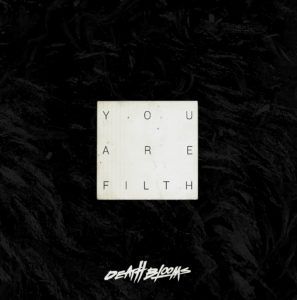 Two years after savaging our eardrums with their self-titled EP, Death Blooms have returned for another round. 'You Are Filth' is a new four-track serving, but it's heavier, it goes harder and is a clear step up. Brace yourself.
To give you an idea, the sound is like Papa Roach in an over-night holding cell after a three-day meth binge. It's dark, angry and melodic while hanging on to a thick groove. You'd find it sitting comfortably on a playlist with bands like Cane Hill. You'll also hear the influence of Mudvayne, in whose discography you can safely assume they found their name.
Having gained a potent reputation on tours alongside Loathe, the Liverpool band has channelled that live attitude into their recordings. Ad Lucas brings meaty guitar riffs to the table, especially on the outro to 'Filth', while the rhythm section focuses on keeping the songs flowing. Lee Gibbs' bass sounds particularly grubby, as clearly heard on the opening to 'Crosses'.
For the most part, Paul Barrow presents his vocals as a powerful roar and scream, but he plays with melodies to keep it varied. The cleaner passages of their debut are still here, but this time they're smeared with grime. Throughout, he gives an impressive performance, grabbing you by the ears and not letting up. Again, there's definitely a Jacoby Shaddix flavour there. While you wouldn't call it poetry, he keeps the lyrics varied and excels at subtle little hooks.
On 'Believe' the riffing eases up, just a little, to allow him space to breathe. It still comes across like a fist-fight with a gorilla, but it's a softer, more emotional performance and lyrically there are a few clever curveballs amongst the swearing.
'You Are Filth' is Death Blooms consolidating their sound. Its harder edge and more searing guitar riffs bite deeper without detracting from the accessibility or sense of fun. It's an awesome display of power, guaranteed to grab attention beyond their fanbase.
4/5
'You Are Filth' EP by Death Blooms is released on 26th April.
Death Blooms links: Facebook | Twitter | Instagram
Words by Ian Kenworthy (@WhisperingSand)