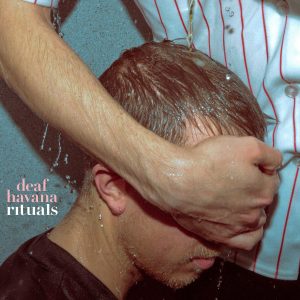 For some bands, change can be a real struggle. For Norfolk's Deaf Havana, however, change seems apparent in their nature as a band. Having floated between various genres over the course of their 12-year stint together, the five-piece show no signs of stopping on their fifth studio album 'Rituals', proving they can still refresh their sound brilliantly.
The first thing you notice when delving into this record is the distinct lack of guitars. Prior to its release, frontman James Veck-Gilodi confessed he was concerned the record was "going to alienate some people" due to the more pop-focused direction the group have taken. While he's probably right, it is still a Deaf Havana through and through, just with more of a  programmed, electronic front instead of distorted guitars. Singles 'Sinner', 'Hell' and 'Holy' all pointed to this – with the latter even featuring on an episode of this year's Love Island, which just emphasises the type of sound the group have gone for.
There's a tendency on some tracks to slip into commonly used vocal effects and overly-synthetic production, like on 'Saviour' or 'Fear', but this is a pop record after all. Where the band do succeed, however, is retaining their identity while embracing yet another new sound. This is mostly thanks to Veck-Gilodi's glorious, gliding vocals, which are as dominant as ever. Tracks such as 'Evil' and 'Pure' highlight the frontman's sleek performance, while the gospel influence from the beautiful London Contemporary Voices Choir elevates his soulful performance nicely.
It's a new sound (again) and one that's more radio-friendly than any previously, but this is by no means a bad thing. If anything, it shows how Deaf Havana are able to relentlessly continue to stay fresh and different, and for that, they deserve a vast amount of credit. 'Rituals' is just the next step in one of the UK's bravest band's ever-strong career.
4/5
'Rituals'by Deaf Havana is out now through SO Records / Silva Screen Records.
Deaf Havanalinks: Website | Facebook | Twitter | Instagram
Words by Dylan Tuck (@DylanJTuck)