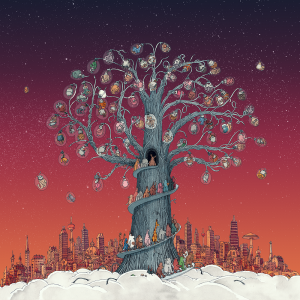 Officially at the eight album mark, it might be safe to say post-hardcore outfit Dance Gavin Dance have finally settled down. 'Artificial Selection' features the same line-up as their previous two releases, and the usual conversations over their erratic position shifts feel like they're in the distant past. However, this translates straight to the music: it feels like they've eased up on their experimental side, resulting in one of their most uninspired releases to date.
Considering its almost hour-long length, this is an issue. Lead single, 'Midnight Crusade' is a poster child for the Tilian Pearson-era of the band. Tilian himself is their anchor, a constant (but often bland) driving force. Jon Mess' screams are powerful and have personality, but are frustratingly written: "My business is pregnant and flaunting off nude, I'm smoking a chicken I took out the coupe." Meanwhile, the guitars jump between genres manically in a way that achieves little.
'Care' is a particularly difficult moment that sums up a lot of their lyrical issues, running a dramatic relationship story parallel to a weird story about seeing The Prodigy, wearing jeans and taking ecstasy. Similarly, 'Flash' tries to match up a sexual relationship with a worrying backstory that covers a childhood encounter with a hot mom and her racist husband.
There's definitely some solid moments on offer here. 'Suspended In This Disaster' is a catchy number that manages to balance virtuoso guitar melodies with more traditional pop songwriting, while 'The Rattler' sees the band double down on punk influences, resulting in dissonance and one of their heavy tracks yet. 'Shelf Life' features ex-vocalist Kurt Travis, who manages to renew the luscious, atmospheric sound of their past work.
If anyone knew that Dance Gavin Dance were going to finally slow down their creative streak, they likely wouldn't have anticipated that it would be as anti-climactic as this. 'Artificial Selection' sounds too familiar, containing a couple of great post-hardcore fusion songs in a wave of forgettable ones.
2/5
'Artificial Selection' by Dance Gavin Dance is out now on Rise Records.
Dance Gavin Dance links: Website | Facebook | Twitter | Instagram
Words by Sam Seaton (@citrus_music_)