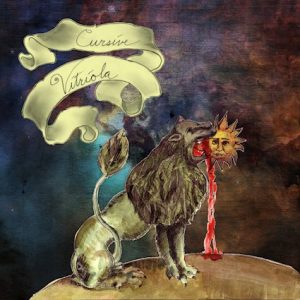 It's been six years since their last record, but Cursive have finally found time to reflect on the feeling of hopelessness and imminent dystopia pervading American society. As such, their eighth album 'Vitriola' is a cathartic experience sure to resonate among the disenfranchised. Despite the bleak subject matter, their hard indie-rock is pleasantly melodic, reminiscent of Conor Oberst's Desaparecidos, but with lovely touches of cello and the occasional sound effect.
'Free to Be or Not to Be You and Me' kicks it off like a disturbing dystopian musical, with its interesting mix of angular guitars and visceral vocals, before segueing into the similarly jarring 'Pick Up The Pieces', with its touches of cello and distinctly hooky chorus. This discordant, yet theatrically melodic air re-surfaces later on the quirky 'Ouroboros', which climaxes in a swathe of synths. Meanwhile, tracks like 'Under The Rainbow', showcase their more aggressive side in a flurry of harsh riffs, while the brooding bass line and searing mid-section of 'Life Savings' add plenty of vitriol to the barbed social commentary.
However, it is the more melancholic, reflective moments that most shine through. 'Remorse' is especially haunting with its desolate piano and plaintive vocal echoing regret to a backdrop of feedback; then there's the edgy dark pop and sublime strings of 'It's Gonna Hurt', as well as the emotional edge and cool hook to the excellent 'Everending'.
It all comes to a triumphant finale on the cello-rich epic, 'Noble Soldier – Dystopian Lament', a grand showcase of all the elements gracing the record; quirky time changes, melancholic lamentation for innocence lost, crunching riffs, brooding bass, swathes of electronica, bitter anguish at the need for conformity and a stirring climax.
This is the sound of a band doing what they do best in an intelligent take on the current state of the Western world. There's plenty to relate to and plenty to get your ears round.
4/5
'Vitriola' by Cursive is out now on Big Scary Monsters / 15 Passenger.
Cursive links: Website | Facebook | Twitter | Instagram
Words by Edward Layland (@EdwardLayland)