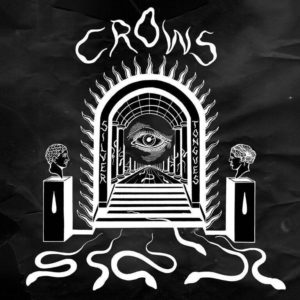 Crows have been causing a ruckus since their inception in 2015. They've garnered a nationwide underground following thanks to their abrasive live shows and raw punk-meets-shoegaze sound. Catching the attention of IDLES frontman Joe Talbot, he's signed them to his imprint Balley Records to release their debut album 'Silver Tongues'.
The title track doesn't hold back – it's a titanic opener that is a pounding headache that doesn't go away and gets ingrained in your mind with a meaty wall of noise. The pace picks up with 'Demeanour', which certainly nods to the classic punk stylings of old. James Cox's commanding vocal style and the tight musicality from the rest of the band, creates a tumultuous racket that is over too soon.
'Empyrean' is an intense affair, pairing the noise with passages of pure emotion; "I am highest now when I am in your arms" shows that through all the gritty background noise there's a heart in the darkness. 'Hang Me High' is a melting pot of gnarly lead guitar lines, that accompany a plodding journey that almost sounds like a fuzzy Britpop song.
'Chain of Being' is a reverb-soaked rager. Its visceral energy fused with soft vocals brings forth a song that will end up being a fan favourite – it encapsulates their sound perfectly. 'First Light // False Face' starts out as blissful track of vocals and echoing guitars that explodes with tender energy towards the end. This anthem will get the audience singing along for sure! Everything comes to fruition with 'Dysphoria', a dreamy ending that is covered in thick clouds of distortion.
Great strides have been taken here. You can tell Crows have taken their time with this album. They have crafted an ardent arrangement of songs that, although sonically airtight, still have fervent energy that keeps their sound free for interpretation. This album will be on heavy rotation for a long time to come.
5/5
'Silver Tongues' by Crows is released on 22nd March on Balley Recordings.
Crows links: Facebook | Twitter | Soundcloud | Instagram
Words by Dylan Whitty (@rootsinwax)