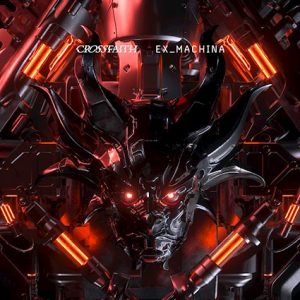 It's no real surprise that Crossfaith's new album is about a dystopian futuristic sci-fi world where people being are turned into mindless drones, controlled through artificial intelligence. The Tokyo genre-busting rock group have always been pretty out there in terms of music and concepts, and this fifth studio album 'Ex Machina' is no exception.
Dramatic movie-style opener 'Deus Ex Machina' drops us straight into the action with a strong dance beat underneath eerie spoken words, telling us about the "Angels" taking over.
The remainder of the songs expands upon that universe, a concept inspired by a Japanese anime called Devilman Crybaby. We're introduced to the Devils – rebels fighting against the system. "Angels aren't necessarily good and demons aren't necessarily bad," said lead singer Ken Koie. "The most important theme is that we should never stop questioning the world around us."
As the album continues, we're treated to a wealth of different genres and sounds, all fused together in the way Crossfaith do best. On 'Catastrophe' we have gruelling, growly screams mixed with upbeat EDM style synths, and 'Make A Move' is dance meets metal, with a catchy, soaring, heavy chorus. Whereas 'Lost In You' is more of a straight out alt-rock power ballad.
Throughout the record, a handful of guests pop up, adding to the diversity. On 'Freedom', Enter Shikari's Rou Reynolds' cuts through the funky, fast-paced stomper with a rapid, unique interpretation of freedom. While fellow genre-crossing duo Ho99o9 appear on 'Destroy', adding a heavy and in-your-face mix of rap, dance and brutal metal, with some gruelling screams and gnarly guitar sounds.
There's much to unpack on 'Ex Machina' and it's worthy of a few listens to delve deeper into the lyrical content to unravel the world they've created, and the commentary they're making about our own current society.
A dramatic and epic heavy opus, this album will surely stand the test of time amongst the band's back catalogue.
4/5
'Ex Machina' by Crossfaith is out now on UNFD.
Crossfaith links: Website | Facebook | Twitter | Instagram
Words by Becton Simpson (@swallowmyeyes)