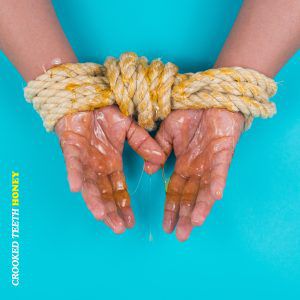 Southern California's Crooked Teeth don't fit neatly into a box. New EP 'Honey' borrows elements of their pop-punk, emo and alternative peers' sounds to create something short, emotive and impactful. It's a mishmash of sound normally left to the bands we grew up with, but Crooked Teeth have put their own stamp on it, demonstrating their skill at bringing it to the present day.
There are moments of title track 'Honey' during which the vocals sound hauntingly like Death Cab or Jimmy Eat World's Ben Gibbard and Jim Adkins respectively. The synth-laden intro would slot right into a Depeche Mode or Nine Inch Nails album and, while it stays at one level for the most part, it still feels dynamic throughout.
'Hate Me' has the soaring guitars of Anberlin and bouncing refrains of The Starting Line. In contrast, 'Absent' includes altered vocals and electronic drums, adding an unexpected dimension to an otherwise simple rock song. This U-turn continues with 'You and Me (Whatever)', at times a chart-worthy pop song, at others a lesson in pop-punk 101. Dare we say it, 'Broken Bones' even sounds like Elliot Minor (remember them?)
Despite the similarities to others, Crooked Teeth very much sound like a band on their own path. It's inspiration, not imitation, when it comes to the influences we hear throughout the record. From start to finish, the EP is energetic and intriguing. The lyrics are simple in structure but complex in subject, and the melodies are classic but catchy. Definitely worth a listen.
4/5
'Honey' EP by Crooked Teeth is out now on Rude Records.
Crooked Teeth links: Twitter | Facebook | Instagram
Words by Kathryn Black (@kathrynblack07)