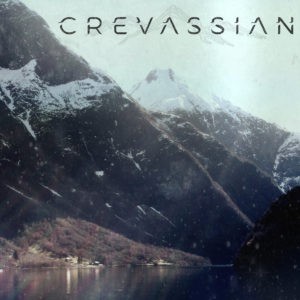 Young-blood Londoners Crevassian have launched their debut self-titled EP into the world, revealing an adventurous blend of metal and post-rock. Plucking from influences like TesseracT, Northlane and Pg.Lost, they've kicked off their career with four tracks of djent-flavoured instrumentals that explore heavy moods and technical rhythmic challenges.
'Tempest' is a bold introduction to the album, throwing you into the middle of a climactic riff-fest rife with polyrhythmic drumming, chugging chords and huge melodic passages. Clocking in at just over three minutes, it's over before it's begun, feeling like the finale to an action sequence where we've missed all the build-up.
'Firmament' sees them take a step back, quietening things down for a more impressive offering. Slow burning, Crevassian take things one step at a time and before you know it, the hallways of wailing guitars and shredded tones feel far more gratifying and enthralling. Its finale of screaming strings into hammered drum patterns feel richly emotional, even with its hard metallic edges.
Penultimate track 'Those Forever Ghost' is more mixed. While it still has those same crunching riffs and creative drums, they feel a bit regurgitated and lacking in variety. That said, it features some of the most impressive bass-work on the project, something that feels sorely missed on other moments on 'Crevassian'.
Chiming in at nine minutes long, 'Summit' is the project's biggest moment. A cosmic finale that bounces from rhythm to rhythm, hitting on some of their sweetest riffs and smoothest grooves. The metallic chug-sessions stay central to the song, grounding them as they barrel through melodies.
It ends with a cascade of noisy, chaotic moments that are arguably some of the best sounds we hear on the record. 'Crevassian' wears its influences proudly, but these moments of pure, unique chaos hint at a sound that could be their answer to breaking apart from the saturated post-rock scene, and align themselves as a truly exciting new project.
3/5
'Crevassian' by Crevassian is out now.
Crevassian links: Facebook | Twitter | Instagram | Bandcamp
Words by Sam Seaton (@citrus_music_)