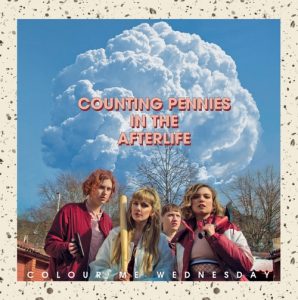 The DIY indie-punk scene is a crowded place at the best of times, but over the last decade, London's Colour Me Wednesday have made a mark thanks to their whip-smart songwriting and progressive and inclusive politics.
'Counting Pennies in the Afterlife', the group's second full-length, is a deft combination of these, marrying political ideals with insidiously catchy power-pop songs that stretch the grey matter while frequently hitting a near-perfect beat.
And it works brilliantly well too; there's no pandering or sloganeering here, just smartly observed ruminations that emphasise the positive changes we can make. "I wanna feel alive again," sings Jen Doveton on opener 'Sunriser', returning to the idea midway through the album on 'Exposure', where she says that you only "get one life and you can do more than just survive." The sincerity that such lines are delivered with might be overly saccharine in lesser hands, but here it'll make your heart swell.
Elsewhere, the personal and political get mixed perfectly; 'Entrepreneur', with its light-hearted chorus of "I'm not unemployed, I'm an entrepreneur looking for investors" might seem throwaway but it could be dissected in a number of ways. That it remains a killer pop song just adds to the charm.
And this is ultimately the beauty of 'Counting Pennies in the Afterlife'; everything is handled with a deft touch, never losing sight of the fact that the music comes first. It means it's a record that stands on its own merits as a piece of art, melding breezy summertime pop with uplifting choruses and a feel-good vibe.
More than ever, Colour Me Wednesday remain a relevant – vital even – voice in the DIY punk scene, and 'Counting Pennies in the Afterlife' a purposeful, passionate and, tellingly, playful return.
4/5
'Counting Pennies in the Afterlife' by Colour Me Wednesday is released on 18th May on Dovetown Records and Krod Records.
Colour Me Wednesday links: Facebook l Twitter l Bandcamp
Words by Rob Mair (@BobNightMair)