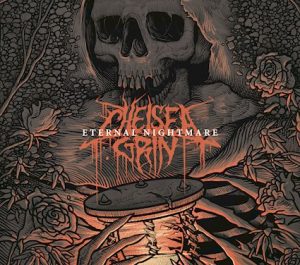 Chelsea Grin haven't been without their struggles in recent times. Earlier this year, it was announced that long-serving vocalist Alex Koehler had left the band after kicking alcoholism, while guitarist Jacob Harmond also left to focus on his family life. Former Lorna Shore frontman Tom Barber stepped up to the fill the void on vocals, with the band deciding that being a four-piece was the way forward. But with all these changes, do Chelsea Grin still retain their sludgy, guttural deathcore sound on the band's fifth studio album 'Eternal Nightmare'? Absolutely, but not without a few issues.
The real problem the record has is that it feels like it's been done to death, and not just by Chelsea Grin. Right from the opener 'Dead Rose', it's like the group are trying too hard to play to the genre, with the cheap horror-flick scream leading you into the track providing a prime example. Elsewhere, 'Across The Earth', with its broody, scaling echoing piano amid fiery dropped guitars and Barber's blended high and low vocals, is delivered exceptionally – but it could so easily be an Asking Alexandria or Thy Art Is Murder or any other recent deathcore band.
There are still some solid cuts on the record, such as 'See You Soon', which has an emphasis on more gradual screams amid spoken growls, and actually serves as a refreshing piece in contrast with a lot of 'Eternal Nightmare'. Similarly, 'Hostage' has an early Bring Me The Horizon vibe, with rich, ringing vocals in the verses and a well-structured chorus.
Undoubtedly, this album will be a bruising experience live, and perhaps that's what these tracks aim to do. But, on record, unfortunately, the same intensity isn't evident. While the production, courtesy of scene-favourite producer Drew Fulk and Emmure guitarist Josh Travis, is slick and dark, it's not enough to keep you hooked to the songs on offer.
Chelsea Grin may have changed faces, but 'Eternal Nightmare' retains and delivers the same stomping sound that the band have consistently had, and many other bands for that matter. The group are clearly talented musicians and have nailed their craft at the deathcore genre, but, unfortunately, 'Eternal Nightmare' just leaves you dreaming of a little more.
3/5
'Eternal Nightmare' by Chelsea Grin is released on 13th July on Rise Records.
Chelsea Grin links: Website | Facebook | Twitter | Instagram
Words by Dylan Tuck (@DylanJTuck)