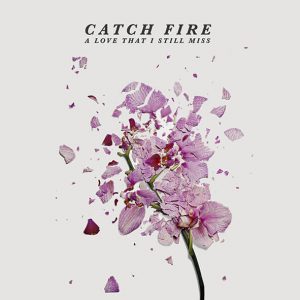 Nottingham's emo-tinged pop-punkers Catch Fire are back with sophomore EP, 'A Love That I Still Miss', which retains all those classic pop-punk features you'd expect to hear, yet goes way deeper than your usual party fodder. There is a mature posture to this record that makes it a cut above the competition; offering plenty to relate to lyrically, while also being musically more exploratory than the norm.
Opening the EP with the bright guitar lines and steady riffing of the instrumental 'Poise' immediately sets a more measured tone and it's one that underpins the whole record. Sure, 'Curfew' then rocks along in classic pop-punk style, it just sounds as if they've really thought about delivering something a little more grown up than the usual teenage kicks, maybe it's all the reflecting on past relationships that's going on throughout.
The running theme is very evident on 'Sylvester', a particularly barbed anti-love song with a cool chorus and some more badass riffing, while 'Guilty as Charged' is a well-worked reflection on finding post-relationship happiness with another hooky chorus. Sandwiched in between are the moody guitar lines of the short, but heartfelt, 'Lucid' and the intense 'Reality', whose hard-edged riffing and incessant bass make for a killer track.
This is a band intent on stretching beyond the limitations of the genre, the way they work their riffs and tempos on tracks like 'Thin Ice' being a perfect example; the emotional edge to the vocal also helping provide a more serious vibe. It then segues into the moody guitar lines, ponderous percussion and sparse keys of 'Sinking' to bring everything to an excellent, but reflective, finale.
All in all, this is impressive stuff from Catch Fire as they stretch their wings beyond the confines of pop-punk to deliver a quality record.
4/5
'A Love That I Still Miss' by Catch Fire is released on 24th March on Rude Records.
Catch Fire links: Facebook|Twitter
Words by Edward Layland (@EdwardLayland)