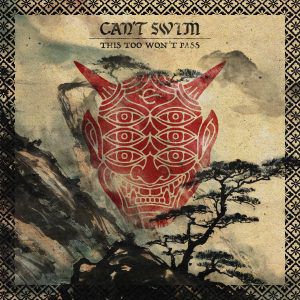 Evil is everywhere on Can't Swim's second album, 'This Too Won't Pass.' It is in the artwork, a devilish face in place of frontman Chris LoPorto's ex-girlfriend, previously their recurring cover star. And it informs the songs, LoPorto more embittered than ever and with an unfavourable world-view in the wake of the split with said ex. "Evil surrounds us and in time, becomes who we are," he has said of the album.
The reception for 2017 debut 'Fail You Again' was far from evil, its gritty basement rock winning wide plaudits, and although this outing is bleaker, it is quite possibly even better. "sometimes you meet the right people at the wrong times" is the band in a nutshell and the verses utilise LoPorto's wonderful vowel delivery alongside an isolated rhythm section to great effect.
"The devil took my life and let it burn", he murmurs on 'Amnesia 666', "but you ignite the flame." And the song itself ignites with ascending chorus chords and an increasingly pained LoPorto. Yes, he's the frontman, but the man is part of Can't Swim's DNA in a way that is almost symbiotic. Can he really atone for hurt by sounding this anguished? We appreciate it, anyway.
Sonically, there isn't progression, but thankfully they have taken everything that made 'Fail You Again' so primal and dialled it up to eleven. 'My Queen' fizzes with insistent but unobtrusive guitars and more delicious lyrical scorn: "If ignorance is bliss then why'd you ask?"
'Not The Way It Was' is so genetically Can't Swim-ish you may find yourself checking you haven't shuffled back to 'Fail You Again' – it is pure melody and energy all wrapped up. And what's that guttural scream punctuating an otherwise straight-up punk-rock stomper, 'What Have We Done?' Ah, of course: "EVIL!"
Unapologetic; gutsy; damaged; unrelentingly bleak and yet perversely hopeful in its conviction: 'This Too Won't Pass' is Can't Swim surpassing all expectations.
4.5/5
'This Too Won't Pass' by Can't Swim is out now on Pure Noise Records.
Can't Swim links: Website | Facebook | Twitter | Instagram | Bandcamp
Words by Peter Stewart (@PeteStew_)