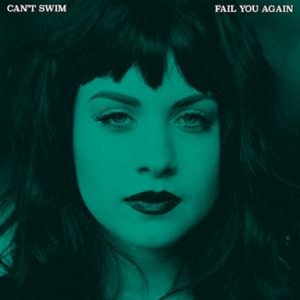 While positivity flows through Can't Swim's debut full-length 'Fail You Again', there's a gritty realism to their open-ended optimism that makes for a relatable and grounded experience, mixing melancholy undertones with hope to create an album that punches hard and soars majestically in equal measure.
It's a difficult balancing act, but one deftly managed throughout. It also means Can't Swim's swinging punk rock never feels too ostentatious or filled with empty platitudes. Instead, it is heavy with relevant and personal insight that wins through thanks to its honesty.
"These are the days you wish you could re-do," asserts vocalist Chris LoPorto on the outstanding '$50,000,000', and it's a real bounce-through-the-air moment, brimming with abandon, but coloured by the experience that days like that don't come along all that often. Likewise, the similarly propulsive 'Kid' is a love letter to life experience, urging the titular unnamed kid to fit for what he believes in as well as living in the here and now. It is crowd-pleasing stuff, bristling with energy and played with unbelievable passion, yet will resonate with anyone who has hit rock bottom and found the mental strength to fight back.
And, while Can't Swim are at their best when throwing out up-tempo driving punk rock, there are moments of genuine beauty on 'Fail You Again' that add depth and shade to their sound. 'Show Me', for example is as fine a torch song as you will hear all year, made all the more powerful thanks to LoPorto's gruff, lived-in vocals.
Yet fans expecting a rehash of 2016's 'Death Deserves A Name' EP might be somewhat disappointed. 'Fail You Again' is certainly far less abrasive, but by removing the unfiltered excesses of the EP, Can't Swim have delivered a masterful debut that is a winner from start to finish.
4.5/5
'Fail You Again' by Can't Swim is released on 10th March on Pure Noise Records.
Can't Swim links: Website|Facebook|Twitter|Instagram
Words by Rob Mair (@BobNightMair)