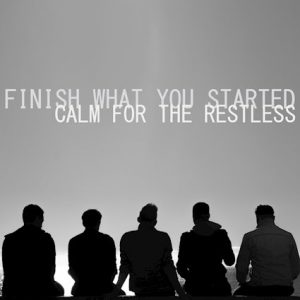 Let's start with an analogy. Harry Potter is a wizard, all he has to do is twiddle his fingers and magic. Poor Hermione has to work hard, even to pull a dove out of a hat. Similarly, Reading five-piece Calm For The Restless don't yet have the X-Factor, but with 'Finish What You've Started' they've worked hard to produce a solid debut album.
Picking up where their previous two EPs left off, the album continues their unique mix of mid-tempo alt-rock songs.  You've heard Biffy Clyro, right? Guitarists Tom Holbrook and Martin Bradford certainly have, and if you're seeking those twangy, biting riffs then look no further than 'Chase a Life' And, while we're on the subject, can we give Calm For The Restless an award for their guitar sound? It's absolutely perfect for the riffs they're playing. A single-coil crunch, beefed up when it needs to be, like the near-breakdown parts of single 'I'm a Lion'. Likewise, the rhythm section of Mark Randall and Mike Westwood sounds powerful, especially when the guitars drop out of 'Moving On'.
Singer Leon Macauley doesn't have the most powerful voice.  Sounding like a mix of Damon Albarn and Bloc Party's Kele Okereke, he's best on the slower 'Brothers' but doesn't always have the punch the songs need. Yet, his delivery is honest, and on 'Crossfire' you can hear him straining to reach the notes, which gives the song unexpected intimacy. Still, Macauley has an excellent ear for melody, just listen to how he slots himself around the guitars on 'Rogues', providing a solid, if not rousing, choruses. In places the backing vocals are heavy-handed, and on ballad 'We Need To Wake Up' his voice is accompanied by strings, which thankfully (and oddly) disappear once the guitars and drums fade-in.
'Finish What You've Started' is the sound of a band trying their very hardest, you just wish they had a little more magic.
3/5
Calm For the Restless links: Website | Facebook | Twitter | Instagram
'Finish What You Started' by Calm For the Restless is released on the 24th August.
Words by Ian Kenworthy (@WhisperingSand)