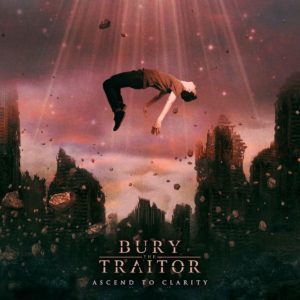 Over the last few years UK metalcore bands have found success, paving the way for bands treading similar ground. Derbyshire's Bury The Traitor are relatively new to the scene, so what does their second EP have to offer?
For starters, 'Ascend to Clarity' feels thought out, it has a beginning and an end, rather than just being a collection of songs. While you would hardly call it a classic, there is plenty here to keep you listening. Yes, you're getting the familiar metalcore trappings of breakdowns and clean choruses, but it's a modern take, with a healthy dose of inventiveness, reminiscent of Architects and Bury Tomorrow.  In fact, where the band excel is incorporating different elements.
Take lead single 'A.S.I.F',  with an almost rock-like introduction, it sweeps in with a chorus, punches you with a breakdown, then tries to tear your head off with a punk-styled outro completely out of left field. Scott Day's lead guitar throws interesting licks and solos into the mix, making it a standout moment.
Similarly, 'Heads Up Hands Down' scores a hit by being fast and fluid with the brutality turned to 11. James Cordall's drums shape the overall sound by never staying in the same pattern for too long and give lead vocalist Oli Heaton Loewenbach plenty of space for his dependably guttural yell. The counterpoint vocals, provided by guitarist Martyn Sheridan, impress with big soaring hooks and even venture into falsetto, just one of the band's numerous virtues.
It's a surefooted EP, showing promise, but a handful of weak moments stand out; the badly executed gang chant on 'Season to Burn' or the misguided and out of tune "whoa"'s on 'Lion Vs Wolf' sound really amateurish. As does the cut-up vocal that massively detracts from the otherwise savage breakdown on 'Heads Up Thumbs Down'. However, despite the missteps showing their relative inexperience, 'Ascend to Clarity' is a solid EP and a great statement of intent.
3/5
'Ascend To Clarity' EP by Bury The Traitor is released on 14th February.
Bury The Traitor links: Facebook | Twitter | Instagram
Words by Ian Kenworthy (@WhisperingSand)