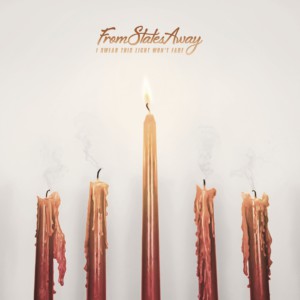 2018 has been a whirlwind year for Holy Roar Records. Having released critically acclaimed albums by Conjurer, Pijn, and Svalbard to name a few, things can only get better for the independent imprint. As the year comes to a close they have one last album up their sleeves: the self-titled record by the metal entity that is Burning Vow.
Made up of members from Holy Roar alumni Employed To Serve and Pariso, Group of Man and Harrowed, this effort should deliver something enticing to say the least. 'Apathy and Acceptance' immediately starts proceedings with an infectious stoner riff that you can't escape. The lead guitar lines are simple but effective enough to give a psychedelic dynamic to the track. Unorthodox vocals fit perfectly, cutting through the instrumentals with piercing falsettos and gloomy lows, that pair well with the songs.
'Walls Around Earth' is a doom powerhouse, opening with crooning vocals and chugging guitars that escalates into a chorus of slow-paced riffs and epic vocals. Melodic guitar line changes showcase Burning Vow's outward approach, before punishing riffs return and are met with pained screams and a transcendental guitar solo. The finale of this 6:25 minute saga pulls you back down into the depths with a reprisal of the chugging guitars.
'Alpha. Omega. Erasure.' sends the listener on a neverending headbanging trip. The melancholic mid-section brings the noise levels down to a serene lull before the comeback of filthy chugged riffs and weaving drum pattern. Album closer 'The Advocate' clocks in at over eight minutes and the swelling song helps you arrive at a point where you're mentally in awe of what this band has produced. You'd think something like this would get lost with all other doom metal releases, but that is far from the truth. Burning Vow have masterfully crafted something truly special. Ride the end of the year out with this melting pot of flamboyant doom.
5/5
'Burning Vow' by Burning Vow album is released on 14th December through Holy Roar Records and Church Road Records.
Burning Vow links: Bandcamp
Words by Dylan Whitty (@rootsinwax)