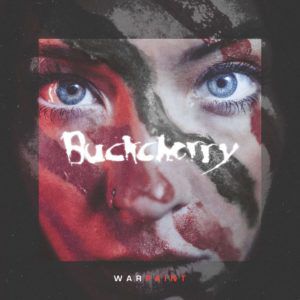 Anaheim hard rock quintet Buckcherry may be down to their last surviving original member in vocalist Josh Todd, but we still get an eighth album from the veteran rockers, unfortunately. While they are obviously masters of their craft, 'Warpaint' is about as predictable a slice of bland middle-of-the-road, rock n' roll tosh as you are likely to hear.
The record starts deceptively brightly with the crunchy riffing of 'Warpaint', its classic sound building to a hooky chorus with plenty of groove. Stand-out track 'Right Now' follows in style, the acoustic picking creating a cool vibe and the bad-ass rock chorus and smoking guitar give it some serious swagger. But that's as good as it gets.
Alarm bells start ringing on the radio-friendly treatment they dish out to Nine Inch Nails classic, 'Head Like A Hole'. It's a game effort but they don't have anywhere near the vitriol of Trent Reznor. Things work a little better on 'The Vacuum'; it's a little livelier and has a cool groove with more tasty guitar licks, but not exactly stepping outside their comfort zone.
The entire second half of the record is then, well, dull. From 'Bent' through to 'The Devil's in the Details', it's predictable, generic, good-time rock. It's not that they aren't talented; the guitar work is killer throughout and Josh has a great voice. It's the songs themselves are boring as shit, descending into meaningless pap.
The nothingness is nowhere more evident than on the God awful ballads. 'Radio Song' is a mundane yarn about how you need to turn up your favourite songs, while the country-rock of 'The Hunger' lacks any emotion as it plods through the motions. Disappointing to say the least.
With most tracks coming in at similar length and all similarly paced, it is monotonously predictable. OK, if you're a fan or lover of hard rock post-1989, then this will probably float your boat, if that's not you, avoid like the plague.
2.5/5
'Warpaint' by Buckcherry is out now on Century Media / RED Music.
Buckcherry links: Website | Facebook | Twitter
Words by Edward Layland (@EdwardLayland)