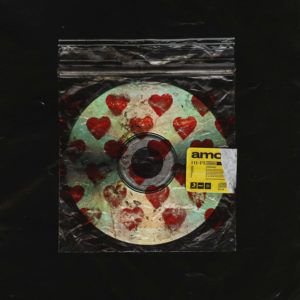 Ever since their formation 15 years ago, Bring Me The Horizon have consistently divided people's opinion. Nevertheless, their rise from deathcore rookies to arena-smashing rock stars emphasises BMTH's defiant and carefree attitude. 2015's 'That's The Spirit''s solidified their status at the top of rock's elite, so to state that their sixth full-length, 'amo', is highly anticipated would be an understatement.
In the months leading up to its release, frontman Oli Sykes stated the album as "experimental" yet 'MANTRA' and 'Wonderful Life' countered that by coming off as fairly safe choices. However, on hearing 'amo', the Sheffield band have certainly stuck to their words. BMTH have increasingly shown a willingness to embrace their pop sensibilities and 'amo' sees them go all out.
Initial playthroughs of the record are jarring, even baffling at times. While 'MANTRA' and 'Wonderful Life' show BMTH are more than capable of still producing bristling rock songs, 'amo' is interlaced with elements of EDM, electro-pop, drum n' bass, with varying results. 'Nihilist Blues' throbs with a thumping beat and unrecognisable vocals from Sykes, before alt-pop songstress Grimes appears with a growlingly favourable hook. The slick synth-pop-rock jam that is 'Medicine', along with the insatiable 'mother tongue', offers two of the albums most infectious choruses, whether you like it or not. Whereas 'sugar honey ice & tea' basically blends the old BMTH with the new; thick riffs and dense drums complement a harmonious, addictive chorus melody.
However, when you experiment, there's sure to be some unsavoury results. The brooding 'Why You Got To Kick Me When I'm Down?' sees Sykes attempting mumble rap. While 'Fresh Bruises' is a pointless, three-minute interlude of atmospheric synth-pop with tweaked vocals. In contrast, orchestral finale 'I Don't Know What to Say' is fairly routine and an emotional affair, albeit one that outstays its welcome.
Nevertheless, 'Heavy Metal' balances it all out, showing that mixing up styles can be brilliantly executed. Essentially Sykes gives one gigantic middle finger to the band's critics while embracing the album-wide theme of "love"; "all I wanna know do you love me anymore? cuz some kid on the gram said he used to be a fan but this shit ain't heavy metal" with monstrous instrumentation, beatboxing courtesy of Rahzel and a brief reprisal of Sykes' screaming past.
Overall, 'amo' is inconsistent yet commendable. It's sure to polarise fans but Bring Me The Horizon wouldn't want it any other way.
3/5
'amo' by Bring Me the Horizon is released on 25th January on Sony / RCA Records.
Bring Me the Horizon links: Website | Facebook | Twitter | Instagram
Words by Sêan Reid (@SeanReid86)