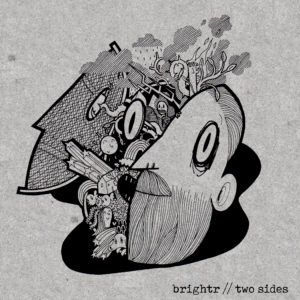 Laurie Cottingham, aka Brightr, is not one to hold back his emotions. 2016's debut full-length outing, 'Year One', rode on a wave of lyrical rawness, complimented by warm, stripped back acoustics. Following its release, Cottingham found himself in a good place yet when it came to writing new material, he felt pressured to deliver something on par.
Nevertheless, having been through a period of uncertainty, Laurie has now returned with the 'Two Sides' EP. It sees him serve up six offerings of "gloomy emo-pop". Collectively, it's an EP threaded together by Cottingham's cathartic words.
From the outset, 'New Years' allows you into his mindset as he gives an account of a strained relationship. Complimented by delicate acoustic flickery, he sings with admittance; "I'm a curse, we're breaking up" yet with sweeping keys, he's considerate. It's a comfortable and pleasing opening.
The sense of hopefulness is a trait that pops up throughout. 'Mark Strong' radiantly confides in feeling out of place and wanting to be elsewhere yet Laurie shows a willingness to try. Likewise, 'Jerk' sees him sing about his self-doubt and facing up to growing old, yet is compliant to "make something of it". If you look beyond Cottingham's acoustic charm, you will find a set of relatable and sincere songs.
After the brief twinkling of 'Vs' and its take on reluctancy to leave the house, 'Bleach Sour' strides with forthright lyricism as Laurie admits to being "afraid of everything I do". When paired with the closing number, 'Bergerac', it amplifies Cottingham's honesty as he refuses to accept happiness and constantly questions it.
Brightr's ability to compliment his cathartic tales with stripped back acoustic guitars, allows you to hone in on his words. It makes for a wholesome EP that is easy to repeatedly digest. While admittedly it's "sadder" and more reigned in than its predecessor, 'Two Sides' is a shining snapshot of Cottingham's effective and underrated songwriting.
3.5/5
'Two Sides' EP by Brightr is released on 5th April on No Reason Records / Penultimate Records / Lockjaw Records.
Brightr links: Website | Facebook | Twitter | Instagram
Words by Sêan Reid (@SeanReid86)