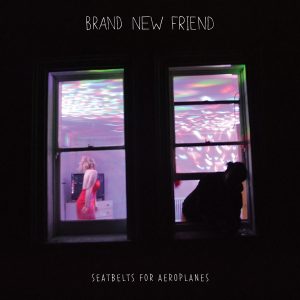 The most immediate thing about Brand New Friend is the total lack of pretension. For a band who has been so hotly tipped by mainstream press, this Northern Irish quartet embody none of the highfalutin, "artful" features typically seen in such acts; this is far more palatable, and that's really the primary reason why 'Seatbelts For Aeroplanes' works as well as it does.
Because let's be frank – sonically, Brand New Friend are indebted to brands of power-pop and indie-pop with the "pop" firmly emphasised, the sort that wouldn't be out of the question for such quintessentially '90s acts as Teenage Fanclub and – of course – Ash. The likes of 'I Was An Astronaut' and 'Girl' fizzle with luscious melodic sensibilities and tweet keyboard lines, and there's a raggedness to Taylor and Lauren Johnson's harmonies to stop it all from feeling too clean.
On the other hand, things can dip into uncomfortable sugariness on the whistling keys of 'Milk Chews' or the mostly-acoustic 'A&E' that lean into uber-trendy indie territory. Although it could be easy to slip into the guise of mainstream indie-pop darlings, which they avoid, for the most part, yet to see it happen presumably by accident is frustrating. It, unfortunately, spoils what could have been a more convincing facade. That's not to say they can't make up for it though, as the grungey 'Sleep On My Floor' and the racing guitar work of 'I Love You Goodbye' effortlessly prove.
Any gripes are pretty minor though, and 'Seatbelts For Aeroplanes' ends up proving to be a perfectly decent little release that shows a band overflowing with charm and playful affability. It's not groundbreaking, as is the case with most indie-pop of its kind, but it gets the job done in a way that not only sticks but also warrants many more repeated listens.
3.5/5
'Seatbelts For Aeroplanes' by Brand New Friend is out now on Xtra Mile Recordings.
Brand New Friend links: Facebook | Twitter | Bandcamp
Words by Luke Nuttall (@nuttall_luke)