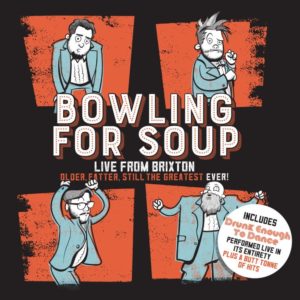 It's only been two years since Bowling For Soup last released a live record, 'Acoustic in a Freakin' English Church', yet here they are again with 'Older, Fatter, Still The Greatest Ever – Live From Brixton'. Despite also being recorded in England and boasting a similar party atmosphere, this is actually a more significant release as it celebrates the biggest headline gig in their 24-year career and finds them playing iconic album 'Drunk Enough to Dance' in its entirety, with a few other classics interspersed.
The 'BFS Theme' introduces the band to a rapturous welcome before launching into 'I Don't Wanna Rock', and it's immediately clear that the years have done little to dull their energetic pop-punk. They sound fresh; Jaret is his usual quick-witted self. The crowd are involved from the off; it's obvious as they segue into the classy 'Emily', that it's gonna be a fun night.
…And they do not disappoint; 'Girl All The Bad Guys Want' is introduced as "the best song ever", and as a bonafide punk rock classic with its irresistible, made-for-singing-along chorus, it is hard to argue. Other high points include the excellent 'Where to Begin', the bouncy, lyrically barbed 'Almost' with thousands of voices united on the chorus and the ever raunchy 'Punk Rock 101'.
There is never a dull moment as the simple genius of their contagious songs takes on a sense of joy in the riotous atmosphere of the live arena. Make no mistake, this isn't simply a fans-only affair, their tongue-in-cheek, politically incorrect brand of good time pop-punk is well worth checking out. It's songs like the infectious 'High School Never Ends', the deadpan 'The Bitch Song' and the seriously classy 'Cold Shower Tuesdays' that play like timeless classics and a reminder of what good time pop-punk is all about.
Here, BFS have succeeded in carving an even deeper niche in pop-punk history, their straightforward, good-time rock n' roll being finely documented on this triumphant performance.
4.5/5
'Older, Fatter, Still The Greatest Ever – Live From Brixton' by Bowling For Soup is released on January 18th.
Bowling For Soup links: Website | Facebook | Twitter | Instagram
Words by Edward Layland (@EdwardLayland)