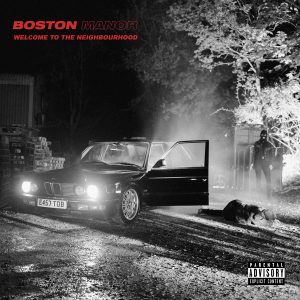 The signs of Boston Manor disconnecting from the pop-punk scene they've mistakenly been associated with have existed for quite some time. 2016's 'Be Nothing.' is evidence of that, proving to be a stirring set of songs that flourished with consistency, and resulted in one of the best debuts in recent memory. Now with 'Welcome to the Neighbourhood', album number two is an intriguing, but rewarding, return that sees the quintet go to places you'd never thought they would.
From the outset, bleak, brooding instrumentation sets the dark tone that dominates 'Welcome to the Neighbourhood'. With a "fictionalised" version of Blackpool serving as it's narrative spine, 'WttN' sees Boston Manor explore the harsh reality their hometown provides. Trapped by the frustrations that has embedded the seaside town, Boston Manor provide a heavy dose of reality with fantastic results. "I'm a victim of an old regime," states Henry Cox on 'Flowers In Your Dustbin', while he takes on unemployment ('Funeral Party'), drug addiction ('Halo') and more throughout.
Stylistically, they take subtle risks such as using electronic synths ('Stick Up' and 'Flowers In Your Dustbin') yet they pay off as it adds to the musical texture and consistency that 'WttN' offers. Ultimately specialising in angst-driven melodic rock, songs such as 'England's Dreaming' and 'Tunnel Vision' compliment the heavy, gritty lyricism with sharp execution. Throughout there is an intensity in their performance, harnessing the authenticity of what Cox is singing or screaming about.
Although 'WttN' is dominated by darkness, and occasional arrogance ('If I Can't Have It Then No One Can'), there are reflective glimpses of light. 'Bad Machine' weaves in in a dream-like state before surging ahead with sustained guitars and punching drums. Whereas 'The Day That I Ruined Your Life' closes the album out with guilt-ridden lyrics and slow-burning, gut-wrenching instrumentation.
The world Boston Manor have created on 'Welcome to the Neighbourhood' is layered, intriguing, and grows with each listen. Uncompromising on all levels, it's clear Boston Manor deserve to be on a whole other level.
4.5/5
'Welcome to the Neighbourhood' by Boston Manor is released on 7th September on Pure Noise Records.
Boston Manor links: Website | Facebook | Twitter | Instagram
Words by Sêan Reid (@SeanReid86)