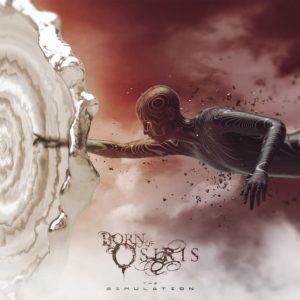 When you hear the name Born of Osiris, it conjures images of the frantic technical guitars and stampede of percussion found on their biggest album 'The Discovery'. While those elements haven't gone away, if you're hoping new record 'The Simulation' will be a re-tread, you are likely to be disappointed. Their sound has been pushed into much more accessible space, making for a short but exciting journey.
'The Accursed' launches proceedings with lashings of groove and a flowing vocal, reminiscent of SikTh. It's catchy and synth-heavy, setting the record's overall tone. However, on the very next track, 'Disconnectome', the high-speed metal of yore rears its head. It's an arresting shift, and a trick the band use to their advantage, never shying away from aggressiveness and frequently catching your attention with a landslide of power.
Songs like 'Silence of the Echo' are intensely technical, absolutely brimming with licks and peculiar little flourishes. This contrasts heavily with the more contemplative soundscapes heard on 'Under the Gun', although they do retain the edgy feel, even when the song opens out and breathes. Often, you're blindsided by unusual structure, but only 'One Without the Other' lets the side down. An amalgamation of off-kilter sections, it feels like a scratched Greatest Hits CD as it skips around from sound to sound, lost.
On prior releases the production was a little rough around the edges, here producer/guitarist Lee Patrick Mckinney creates a more rounded and crisp feel. Perhaps not to everyone's taste, but it works well with the increased synthesiser elements and enhances Ronnie Canizaro's vocal work. Throughout, Canizaro plays a game of back-and-forth with screaming synth player Joe Buras. They flirt with melody, just enough to draw you in without losing their power.  While they never quite sing, they still manage to create some big choruses – clearly heard on 'Cycles of Tragedy'.
It's these elements that massively enhance the songs, proving that, despite trying something new, Born of Osiris have created an accomplished and bewitching record.
3.5/5
'The Simulation' by Born of Osiris is released 11th January by Sumerian Records.
Born of Osiris links: Website | Facebook | Twitter
Words by Ian Kenworthy (@WhisperingSand)