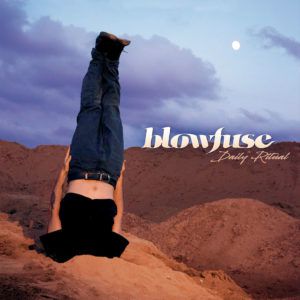 Despite being around for over a decade, now feels like the best time for Blowfuse to release new music. The scene has hugely shifted to be far more receptive of this brand of melodic, adrenalised punk, and for a band who've largely been ignored outside of their native Spain, 'Daily Ritual' could see things finally kick off in a big way.
They certainly should anyway, as this is a really solid punk album through and through, played with an effortlessly cool '90s sensibility and a real sense of distinction that paints Blowfuse as their own entity. Frontman Oscar's snide, sneering voice does that on its own, but with clear sideways glances at bands like Jane's Addiction on 'Bad Thoughts' and 'Sunny Daze', there's an inventiveness that really shines through.
Of course, that doesn't mean they're averse to embracing straight-up punk head on, and with the flavours of hardcore in the double-time drums of 'Grand Golden Boy' and 'Change Your Mind', it's a tad less interesting but the excitement is still there. There's a malleability to this album that's incredibly refreshing, coupled with scratchier punk production and colour to the execution that really makes these songs pop.
What's more, it's an incredibly easy album to like across the board. There's punch, energy and melody in spades, and Blowfuse bring a sense of character in a way that hasn't been seen in any punk album thus far this year. Whether it'll be their big moment remains to be seen, but for punk fans, this isn't an album to be missed.
4/5
'Daily Ritual' by Blowfuse is released on 8th February on Disconnect Disconnect Records.
Blowfuse links: Website | Facebook | Twitter | Bandcamp
Words by Luke Nuttall(@nuttall_luke)