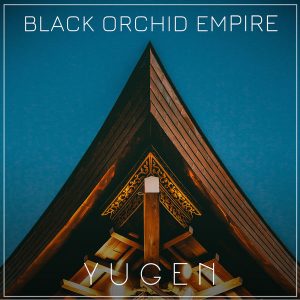 The best way to describe London's Black Orchid Empire would be adequate. They're among the current breed of hard rock acts going through all the necessary channels to reach where they want to be, only to move up the ladder incrementally at best, and yet, they're at least taking those steps. They've been slogging away with live shows, building an audience, and with 'Yugen', they're displaying the signs of longevity with a second album.
And really, it's fine enough, though if Black Orchid Empire expect to break down any doors with their fairly lukewarm, middle-of-the-road hard rock, they're sorely mistaken. It's pretty harmless in all fairness; 'Burn' and 'Blacklight Shadow' could potentially do something on rock radio with the right push, and Paul Visser's sweeter, more melodically-charged vocals are a solid change of pace from the norm. For the most part, it's all fine, perfectly listenable stuff.
But when was the last time anyone really lost their minds over something 'fine' or 'perfectly listenable'? It embodies Black Orchid Empire's biggest problem of just not being a distinct entity whatsoever, and by the end of this forty-minute-long album, it's a struggle to remember much of anything. There's not one single riff or hook that can really go blow for blow with the genre's greats, and while the occasional harmony on the acoustic 'Vertigo' adds another layer to a band that's crucially lacking in them, it's one moment, and the rest of the album can barely hope to catch up.
At the end of the day, there's bound to be an audience for this sort of thing, but it's a mystery why this would be a first choice over the countless of more interesting hard rock bands out there. And that's not to say that Black Orchid Empire are a bad band either; there's potential here, sure, but it gets lost under how uninspiring this album can come across. At the minute, this feels like a band who need a lot more preparation before they can hit the heights they clearly want to.
2.5/5
'Yugen' by Black Orchid Empire is released on 25th May on Long Branch Records / SPV.
Black Orchid Empire links: Website | Facebook | Twitter | Bandcamp
Words by Luke Nuttall (@nuttall_luke)