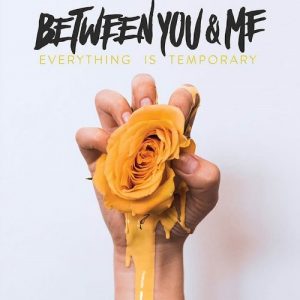 As a genre, pop-punk seems to have really hit a wall lately. Sure, there's still a handful of bands taking strides to push the genre forward, but between the lack of huge new names and a reluctance to try anything new in the slightest, it's not hard to notice the stagnation.
And when it's bands like Between You & Me looking to pick up the mantle, it becomes even more exasperating. While this Aussie mob clearly have the potential for some solid hook-writing, 'Everything Is Temporary' couldn't be spinning its wheels more, once again trying to recycle every pop-punk trope for the umpteenth time and coming up short. That's not to say this album is totally irredeemable. The likes of 'Move On' and 'Friends From '96' have the sunny, propulsive melodies you'd hope for in pop-punk, but with the genre's oft-derivative instrumentation and Jake Wilson's incredibly pronounced, Americanised accent, this could be from literally any other band in the genre.
That's probably the most frustrating thing here – Between You & Me play so closely to pop-punk's obsession with well-trodden nostalgia that they seemingly forget to craft an identity of their own. Thus, 'Dakota' and 'Catch A Break' both fill the interchangeable middle ground between mid-period Neck Deep and The Story So Far, while 'Floral Glass' fills the role of the soaring alt-rock ballad that's become all the more commonplace. Again, this is a band who clearly know what they're doing as far as technical construction goes, but there's nothing here that can't be achieved from hundreds of other bands in the same mould.
And at the end of the day, Between You & Me are hardly going to progress if they don't find an identity of their own. As an ostensibly new band, 'Everything Is Temporary' can be given the benefit of the doubt to an extent, but that doesn't stop it from having so little to offer, or failing to build its creators up as a new, sizable pop-punk presence. It's just another one for the pile, and that's really disheartening.
2.5/5
'Everything Is Temporary' by Between You & Me is released on 13th July on Hopeless Records.
Between You & Me links: Facebook | Twitter | Instagram | Bandcamp
Words by Luke Nuttall (@nuttall_luke)