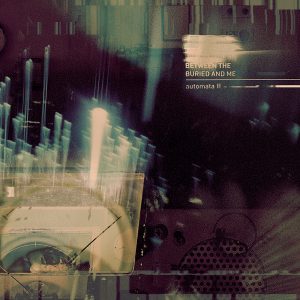 Back in March, prog-metallers Between the Buried and Me released 'Automata I', the first of a high concept, two-part album. It displayed the band at some kind of creative peak, seeing them construct the beginning of a narrative while taking musical influence from all around the world. The release left expectations for 'Automata II' incredibly high. Possibly a little too high.
The track list is reduced to four, but the song lengths range from a sharp two minutes to a marathon 13. Within these timeframes, BtBaM offer up something more heavily stylised than 'Automata I'. Opener 'The Proverbial Bellow' comes straight from the soundtracks of such sci-fi classics as Blade Runner or Total Recall. The two minute 'Glide' sounds like some hellish, circus-based nightmare, which fits the commercialisation of dreams concept across the project. 'The Voice of Trespass' has overt swing and jazz influences, with a horn section that seamlessly stitches together the roaring twenties and BtBaM's ominous, 21st-century metal.
The impression these three tracks give is similar to a channel-hopping episode of a cartoon, except here it's the protagonist of the story going through his own dreams, jumping from sci-fi, to circus, to a chaotic twenties. It's in closer 'The Grid' that this battle between man and corporation reaches its epic conclusion. Across ten minutes, sweeping guitars end this tale. Oddly however, the story takes a backseat to the incredible instrumentation across the whole of 'Automata II'.
While the world influences are gone on the second part, it's the pure chaos of different historical and futuristic types of music being smashed together that will leave listeners stunned. The intro to 'The Proverbial Bellow' is enough to turn even the biggest prog sceptics, and we defy anyone not to find any enjoyment in 'The Voice of Trespass'.
As a whole, 'Automata; is a triumph. While initial listens of 'II' can prove a little confusing, once it clicks this just might be the best music BtBaM have ever released.
4.5/5
'Automata II' by Between the Buried and Me is released on 13th July on Sumerian Records.
Between the Buried and Me links: Website | Facebook | Twitter
Words by Ben Mills (@BenMills28)